Today's been a bit cold with the changing seasons but plans are afoot for the HESTERTOMB and Hallowe'en is just around the corner. Mark's been decorating the courtyard in a very ghostly guise...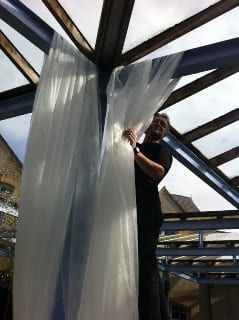 Next time you visit Hestercombe's Stables Restaurant you're in for a big surprise!
Spooky tours - daytime and night, will be running throughout the holidays, and there will be ghastly treats and frightening eats available in the cafe.

There's loads to keep us all busy over the next few months, from the Den Building this Sunday (perfect for enthusiastic kids!) to foraging for mushrooms on the Fungal Foray and then of course the Halloween extravaganza. So don't despair! The autumn can hurl all it's got at us but there's no more sitting inside hoping for the rain to stop!
Wildlife's having a bonanza too, the roe deer that range through Hestercombe's landscapes prefer the autumnal lull to the bustle of visitors in the summer. If you visit early (or late!) you might glimpse them through the trees, or foraging for food in the fallen leaves.
Unfortunately there's also several not so savoury creatures about. Slugs have loved the wet summer and there was one about 4 inches long on the drive today! But watch out for the disgusting 'red Spanish slug'! Apparently there has been a two-fold increase in numbers across Britain! Let's hope they havn't got to Somerset yet..
http://www.telegraph.co.uk/gardening/gardeningadvice/9570862/Slimy-and-savage-the-Spanish-slug.html