When we first got our glasshouses they seemed huge. The possibilities were endless. We were going to have so much more SPACE.
But it turns out big is never big enough and they are full- and I mean FULL.
If you are about to buy a glasshouse, or a shed, and are trying to decide what size to go for my advise is 'go large'. Go as large as you can afford because you will fill it!
We've been getting ready for the frosts. We have two large glasshouses and a polytunnel- non of which have any heat- so we have devised a plan.
The finished glasshouse is fully glazed and potentially therefore the warmest. But it is a large space with a concrete floor so we are not taking any chances. This will house all of the most tender of our plants- mainly autumn sown seedlings and cuttings and young plants. These are 'tucked in' at night with some bubblewrap covered wooden frames- kind of like a cold frame within a glasshouse- which we are hoping will keep them even warmer in the coldest spells.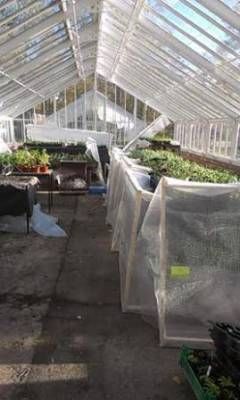 The glazing is not quite finished on the second glasshouse and so the poly tunnel is the next warmest place. This stores mature but tender plants, Puya, Echevaria, some of last years cuttings that are waiting til spring to go out etc. As an extra precaution these are all covered in fleece before we finish work every night and unwrapped in the morning when we arrive to let them get some air.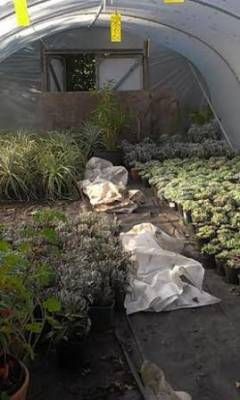 The second glasshouse is the coldest. It has some protection but still has holes in the roof so is left open to the elements. This is where the hardy stuff goes. Anything that survives outside in the winter and doesn't need any TLC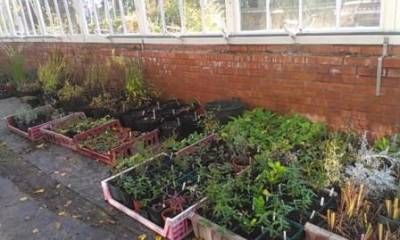 And still we have made a hard standing area for the really hard plants. The ones that will even survive the odd nibble from a passing deer or rabbit. The ones that I just cannot justify taking up room in the glasshouse!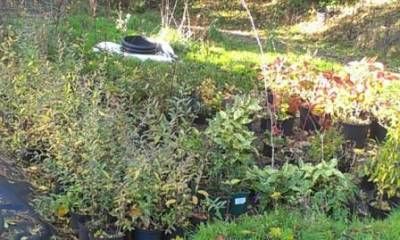 It really doesn't take long and you are full. Each bed of the plat has about 9 massive Cannas that we dig up and over winter. All the perennial bedding from the Victorian terrace is dug up and over wintered to use again another day. Many of these plants would probably survive cold, but the combo of cold and wet will kill them off.
And you know what us gardeners are like- we cannot bear to waste a plant or to lose a battle with nature. We would rather spend hours nurturing them like children. Life would be so much simpler if we just stopped trying to control nature and grew pure native plants. But then we'd all have to learn to love weeds!