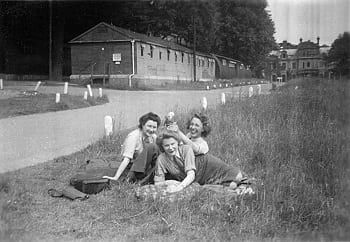 Emma Lane & ATS colleagues on the drive. WWII, 1944. Courtesy Esme Lane We are looking to paint the picture of Hestercombe's history and we need your help. Do you have any memories, stories or photographs that document Hestercombe's history that we can use in the Hestercombe Gardens Trust Archive? If so, then we would love to hear from you. The current archive includes more than 9,000 entries, including written documents, images, photographs and artworks from Hestercombe's residents, staff, guests, visitors, associates and the general public. This archive has allowed us to get a feel for what life was like at Hestercombe over the course of its history. Some of the most noteworthy collections include the De Vesci Album 1904-1939 from when Hestercombe House and grounds were extensively photographed by enthusiastic amateur photographer, Yvo Richard Vesey. More than 300 black and white photographs were taken by Vesey in the early 1900s, depicting the Formal Garden in various stages of development, pictures of the interior of the House, estate staff and of the Portmans themselves. Yvo Richard Vesey became 5th Viscount de Vesci on the death of his uncle in 1903.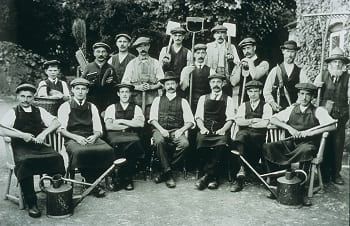 Gardens & Grounds Staff. April 1914. Courtesy Somerset Heritage Centre. The Hestercombe archive also holds digital copies of Gertrude Jekyll's original plans for 13 of the 17 garden areas that comprise the Formal Garden at Hestercombe. These plans are constantly referred to by the gardens team at Hestercombe, and are equally popular with students, Jekyll/Lutyens researchers and with the media. Copies of 19 letters written by Edwin Lutyens to his wife, Lady Emily, 1903-31 are also held in the archive, describing his negotiations to design and build a new garden at Hestercombe. Now, in conjunction with our popular Hestercombe Gardens Appeal photographic exhibition Completing the Picture in Hestercombe House, our members, visitors and those with a connection to Hestercombe are being invited to send us their memories, images and stories of Hestercombe over the years. This will add to our extensive archive so that we can pass on these vital details of Hestercombe's history to future generations. Share with us...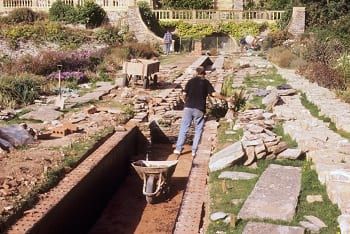 The East Rill restoration C.1990. Courtesy Andrew Paul To share your Hestercombe memories, however big or small, please contact Kim Legate. Your nostalgia might just help us fill in some blanks or even discover something new! E: kimlegate@hestercombe.com Completing the Picture exhibition Celebrating 20 years with 20 amazing images will be on display in Hestercombe House's Portman Room on June 20. The exhibition shares some of the most incredible pictures from our archives and charts Hestercombe's history, from designed Arcadian landscape, to its ruin and highly acclaimed incredible restoration. Find out more here.