The Hestercombe archives are bursting at the seams with facts, pictures and accounts of the history of Hestercombe and those who lived and worked here. In this installment of Memories of Hestercombe we take a step back almost 300 years and explore the Hestercombe estate as it was in 1720. Written by Kim Legate, Archivist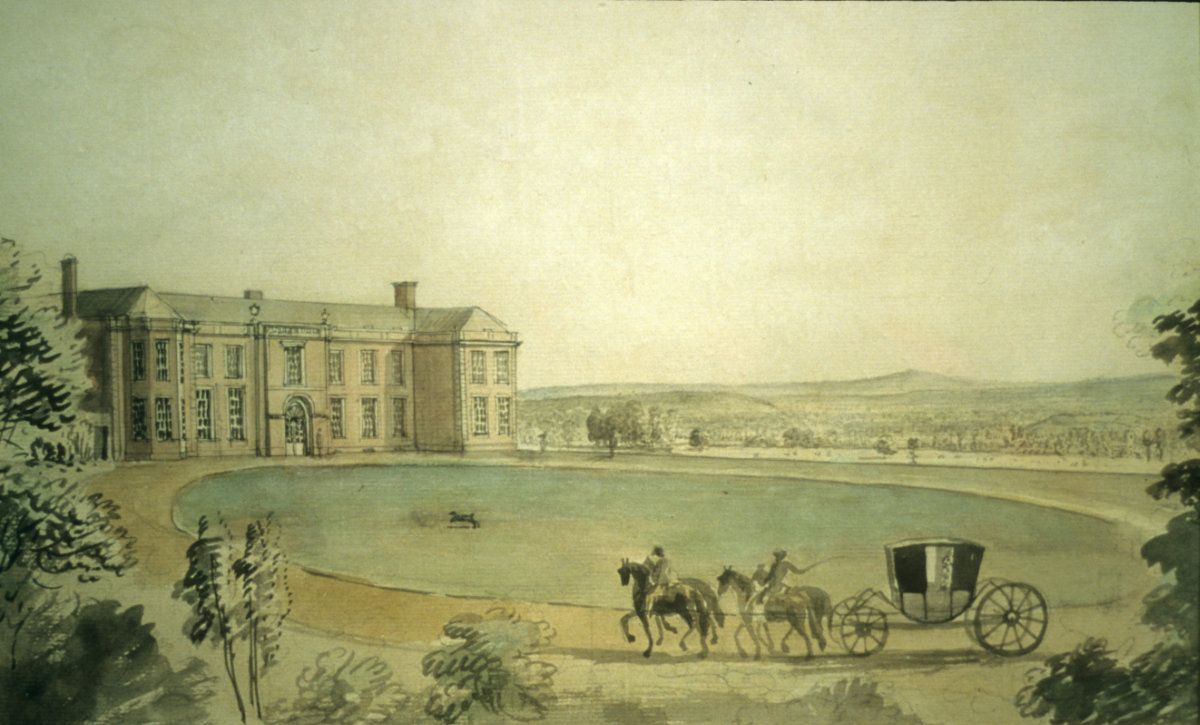 Fig. 4 -- John Bampfylde's Georgian House as painted by his son, Coplestone Warre Bampfylde c.1770.
"It was then Agreed by & between Sr Francis Warre & Richard How of Gotten that for and in consideration of the yearly rent of twelve ponds of Lawfull mony of England to be pd to the said Sr Francis Warre by the said Rich: How Quarterly the said Sr Francis Warre Hath Sett & lett the ground latly Held by John Goshin of Gotten Aforsd: & alsoe the paddock late Briant & now in the possession of him the said Richard How for the terme of seaven years from the twenty fifth day of december next & att the end of the said term he shall yeld it up in Good Heart & in clover or ether grass or both. If plowed or if in pasture the former claus to be not insisted on in Wittness whereof the parties to these presents have sett there Hands the day above sett down". (Sir Francis Warre Accounts, 18 November 1710, p. 187.)
From the Archives: the Hestercombe Estate in 1720
At the beginning of the 18th century, Hestercombe was a well-managed estate of approximately 900 acres with yearly rents of £200. Extensive land holdings elsewhere in the County, namely in West Monkton and Overton, Creech St Michael, Ruishton, Middlezoy, Cheddon Fitzpaine, Kingston St. Mary, Gotton and Broomfield, brought significant additional rental income to the Warre family, who had now been in residence for over 300 years. (The receipts for Creech St. Michael alone, with its water gristmills, 'Great Wood', and arable farmland contributed £266 to the Warre coffers in 1718.) The detailed financial records kept by Sir Francis Warre (1659-1718), and his successor, son-in-law John Bampfylde (1691-1750), attest to the careful husbandry that made the estate virtually self-sufficient for many years, producing substantial harvests of hay, wheat, barley, clover, sugar peas, beans, corn, turnips and hops. Livestock on hand consisted of sheep, welsh bullocks, pigs, beef and dairy cattle, and oxen. A host of labourers maintained Hestercombe's hedge-lined fields, walled parkland, and thickly wooded spring-fed combes (Somerset term for steep-sided valley) and there were at least ten tenant farmers working its fields of rich sandy loam. Of the former, the estate accounts record regular payments to 'Tom Long in full for the Workfolks', 'Tom the Birdman', 'Fudge the Thetcher', 'John the Miller', 'Boon the gardner', 'Duke and the Weeders', 'the Mowers', and 'Mr Slape ye limeman' amongst others. Prominent among Hestercombe's tenant farmers, most of whom leased their land for 99 years or three lives, as had been the practice in Somerset from the early 16th century, were William Leach (Sandilands), Richard Dibble (Little Yards, Broomfield Downs), Farmer Hartnole (Meadows, Lower Gotten Down, Little Gotten Down), and Richard Taylor (Volis, Hawkmoors, Pottles Land, Ten acres).
Wealth of the estate
The natural wealth of the estate provided additional sources of income. Woodland trees (elm, oak, poplar, sycamore, ash, walnut) were sold for both their timber and bark -- Cox the Enmore tanner regularly purchased oak bark from Sir Francis Warre for its high tannin content – although quantities of oak were held back for charcoal burning which occurred in pits in July, August and September. Stone (diorite & morte slate) was 'raised' from the estate quarries from at least the 13th century to facilitate both on site building projects (e.g., path surfaces, mortared garden walls, drystone parkland walls, stone-tiled roofs) and local improvement schemes. The latter included the upkeep of 'highways' in Cheddon (1731) and Kingston St. Mary (1754-55) as well as the construction of two well-known local buildings: Taunton Castle (1246-47) and Taunton Gaol (1754). Underwood from the lower park and the 'poole garden' (today's Decoy Pond) was processed into either faggots (bundled sticks for igniting fires) or wallets (brushwood without the large sticks found in a faggot) and the nursery at Creech St. Michael was probably being utilised to grow the poplar trees that Sir Francis sold to Alexander Culverwell in 1711, or even the apple trees that Margaret Bampfylde offered to Mr. Gunston in November 1751. In order to establish orchards of the highest quality at Hestercombe, cider apple trees such as the legendary Golden Pippin (I. 1629) and Golden Knobb (I. 1700) were selected. John Bampfylde's tree planting scheme of the 1720s augmented the existing stock on the estate with over 685 additional trees purchased at a total cost of £23-12-0, a considerable sum by the standards of the day. Many of these apple trees were obtained from local suppliers, including 'Mr. Knight' of the neighbouring village of Kingston St. Mary ('Loads'), Thomas Carew MP of Crowcombe Court, Crowcombe, and 'mr Trevelian' (Sir John Trevelyan) of Nettlecombe Court. But more renowned growers were also approached. Noteworthy among them was Robert Furber (1674-1756), proprietor of the most fashionable London nursery of the day. Situated just opposite Kensington Palace, Furber was paid the sum of £15-11-0 by John Bampfylde between 1725 and 1732 for various undisclosed items, but also for 'trees and seeds'.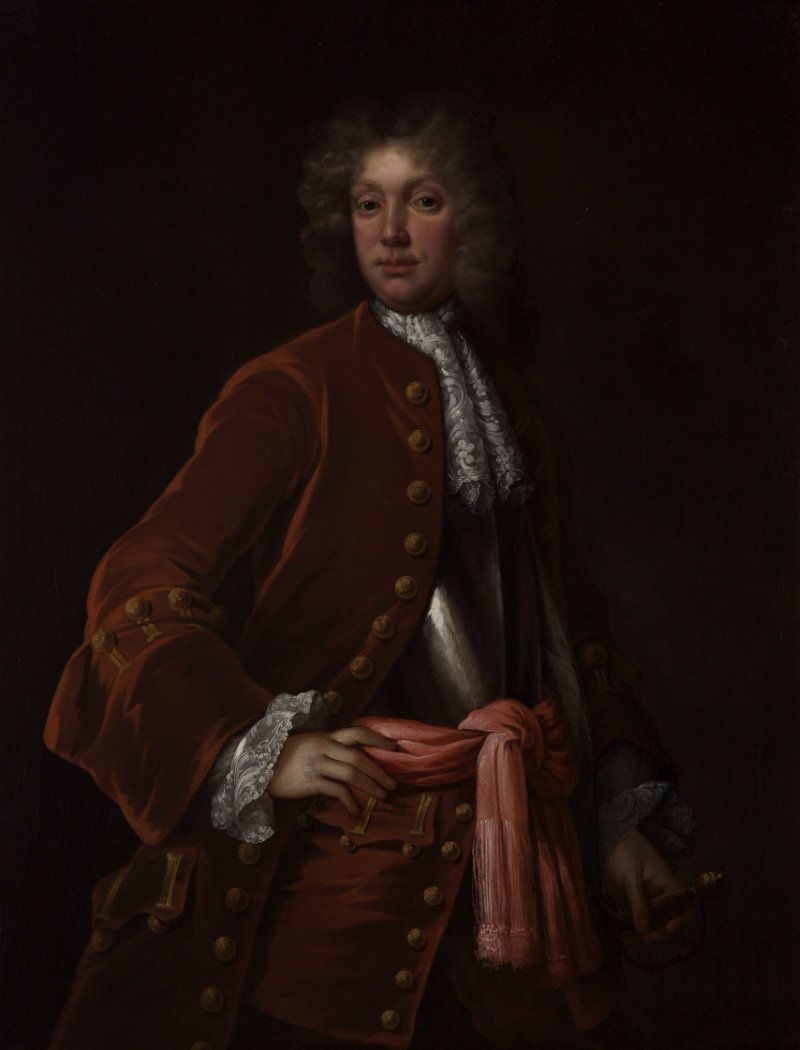 Fig. 1 -- Sir Francis Warre (1659-1718)
Sir Francis Warre
Sir Francis Warre , possessed a distinguished lineage. His father, Sir John Warre, a Royalist during the Civil War and a senior magistrate under Charles I, was knighted by Charles II following the restoration and made High Sheriff and a captain of the militia in 1662. On his death in 1669 Sir John left the ten-year-old Francis a property that included a substantial mansion house with the second highest hearth tax in the county -- there were 32 hearths noted in 1664-5 although 'six are demolished by pulling downe to new build'. Subsequently enlarged and refurbished by Sir Francis over the ensuing decades, possibly to designs by London surveyor, William Taylor, who made alterations for the 1st Viscount Weymouth at Longleat from c.1682 and, closer to home, produced schemes for Sir Edward Portman at Orchard Portman, Taunton, 1685-88 and for Sir Haswell Tynte at Halswell, Goathurst, 1683-89, Hestercombe House was eventually recorded in a large oil painting of 1700 (now lost). The 1 x 2m canvas by an unknown artist was displayed in the Great Hall for generations, depicting a medieval house on the left and an early classical front to what is now the west block, beyond which lies an enclosed gated 'Green Court' . The House front is a balanced arrangement of ovolo-moulded high transom and mullion windows positioned on either side of a projecting two storey stone porch with balustraded balcony. (The term ovolo comes from the Latin word for egg, and means a rounded convex shape.) Evident to the west is the Warre family chapel, a gothic construction with bell turret that was demolished about 1766. It is linked to Hestercombe House by a tree-lined avenue and lies alongside an orangery/greenhouse that incorporates the arms of Sir Francis Warre's first wife, Anne Cuffe (1660-90). The orangery is thought to have been built in the 1680s, as the stone escutcheon (shield bearing the Cuffe coat of arms) on the front of the building is by the same stone carver as did the front of Halswell House which was built between 1683, when William Taylor first visited, and 1689 when it was completed. The construction of the orangery may well have been a political statement in support of William of Orange who landed at Torbay in 1688, the start of the Glorious Revolution.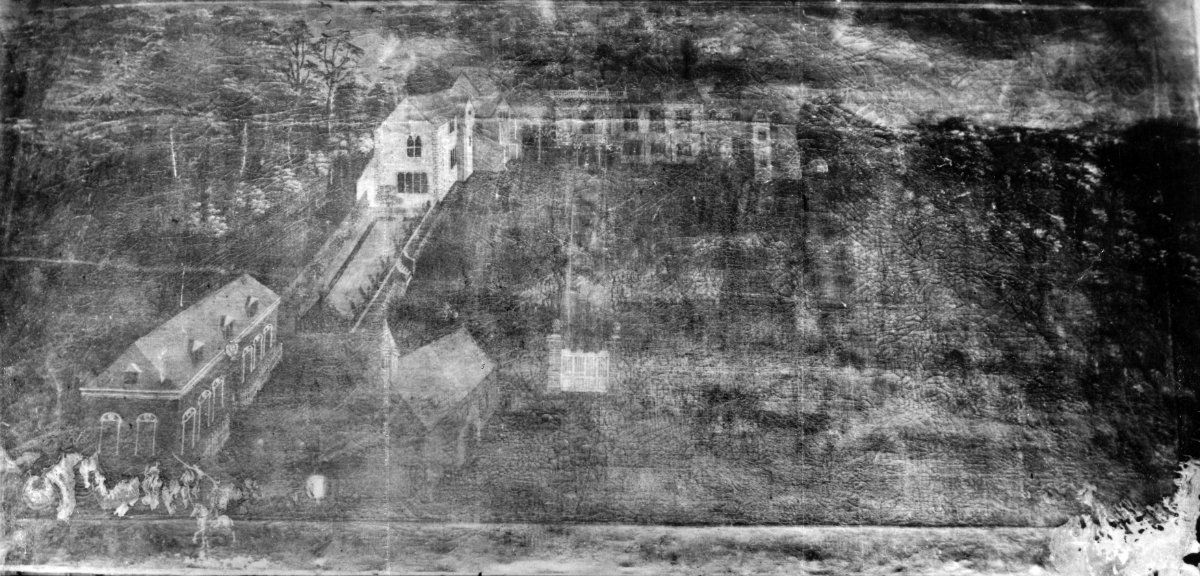 Fig. 2 -- Hestercombe House c.1700 by an unknown artist. Sir Francis Warre received his baronetcy on 2 June 1673, aged thirteen years. He matriculated at Oriel College, Oxford, in October of the following year but took no degree, not unusual at this time for a man of his status. According to his personal papers Sir Francis was then 'persuaded to accept a commission of Captain in the Duke of Monmouthshire's regiment, which was then thought no disparagement to gentlemen of the best families and fortune of England'. In September 1676, perhaps feeling the urge to settle down, Warre married Anne Cuffe, daughter and sole heiress of Robert Cuffe Esq., of Creech St Michael. The marriage produced two sons, one of whom reached adulthood only to become a casualty of war (The War of the Spanish Succession 1701-14). John, the eldest, was killed at Ghent in Flanders in October 1709, aged 31; William, the second son, had already predeceased him as an infant in 1681. Sir Francis Warre married secondly, Margaret Harbin (1667-1719), daughter of John Harbin merchant of the city of London, on 11 September 1692. She bore the baronet two children: a son, also named Francis, who expired in 1706, aged 8 years; and a daughter and eventual heir, Margaret (1694-1758). Sir Francis' life was distinguished by a long record of public service. A career Tory, he represented Bridgwater in parliament in 1685, was returned to office in 1689, 1690, and 1699, and went on to represent Taunton in eight more parliaments between 1700 and 1715. He was also appointed colonel of the Taunton regiment, vice-admiral of Somersetshire and the port of Bristol, deputy lieutenant of the county, and justice of the peace.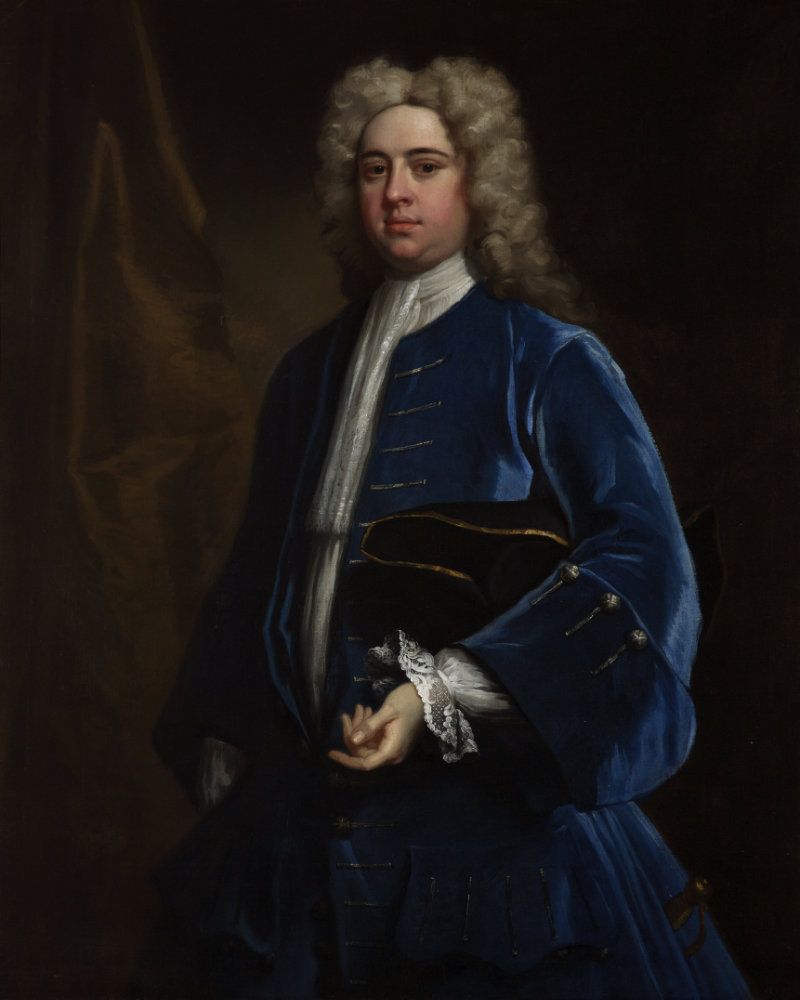 Fig. 3 -- John Bampfylde remodelled Hestercombe House 1719-32.
John Bampfylde
John Bampfylde (1691-1750) , who succeeded to the Hestercombe Estate in 1719, following his marriage to Sir Francis Warre's heir, Margaret, also had parliamentary aspirations. The second son of Hugh Bampfylde and only brother of Sir Coplestone Warwick Bampfylde, third baronet, of Poltimore, Devon, he was elected MP for Exeter in 1715 and remained in office until 1722. He was re-elected as MP for Devon in 1736 and served until 1741. John Bampfylde shared his father-in-law's passion for the Tory cause, befriending, such party notables as Sir William Wyndam of Williton (1687-1740), acknowledged party leader and Chancellor of the Exchequer 1713-14, and Sir Watkin Williams Wynn (c.1693-1749) the vociferous Jacobite.
Remodelling the House
Between 1719 and 1732 Bampfylde undertook a general rebuilding of Hestercombe House, removing the northwest wing and adding a Georgian façade at a cost in excess of £1,200. (His accounts record substantial payments to William Parker, joyner [£740-07-04], Mr. Newick [£44-13-00], George Bailey [£341-04-06], and Freeman the Glazier [£69-00-00]). (Fig 4, above) Bampfylde also improved the grounds of his new residence, acquiring a copy of The Gardener's Dictionary by Philip Miller (1734) for inspiration, commissioning Sir William Wyndham's gardener, 'Mr. Brown' (Orchard Wyndham, Williton), to create garden plans on at least two occasions (1728 & 1731), and purchasing the necessary 'trees and seeds' from the renowned Kensington nurseryman, Thomas Furber. By November of 1738 Bampfylde could eagerly report that he was 'hard at work about my plantation'.
Leisure time in the 1700s
Prior to John Bampfylde's remodelling of Hestercombe House, Sir Francis Warre and his family would have spent much of their leisure time relaxing or entertaining in the recently refurbished, 'old Parlour', probably the medieval solar that adjoined the south side of the Great Hall (by 1872 the Warre dining room, now the Warre Room) .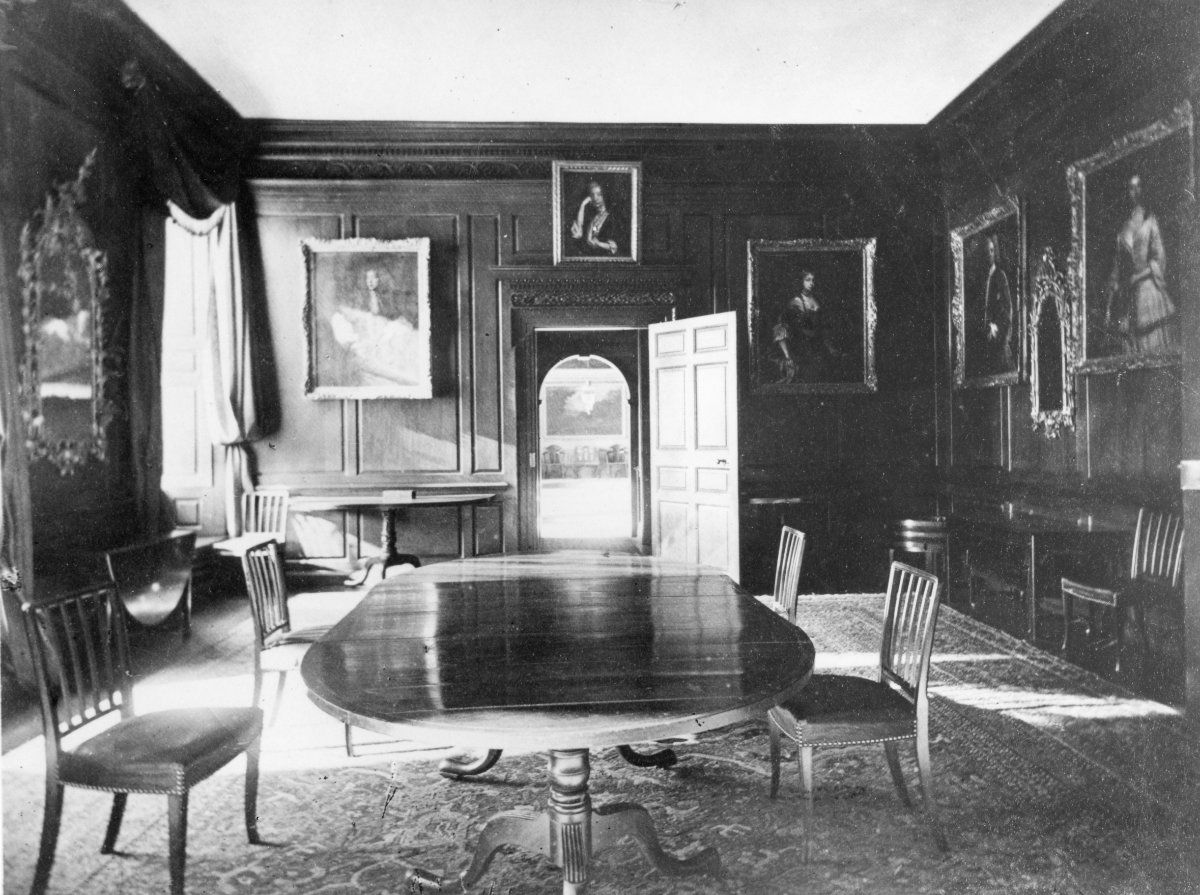 Fig. 5 -- North end of Dining Room (now The Warre Room) c.1872.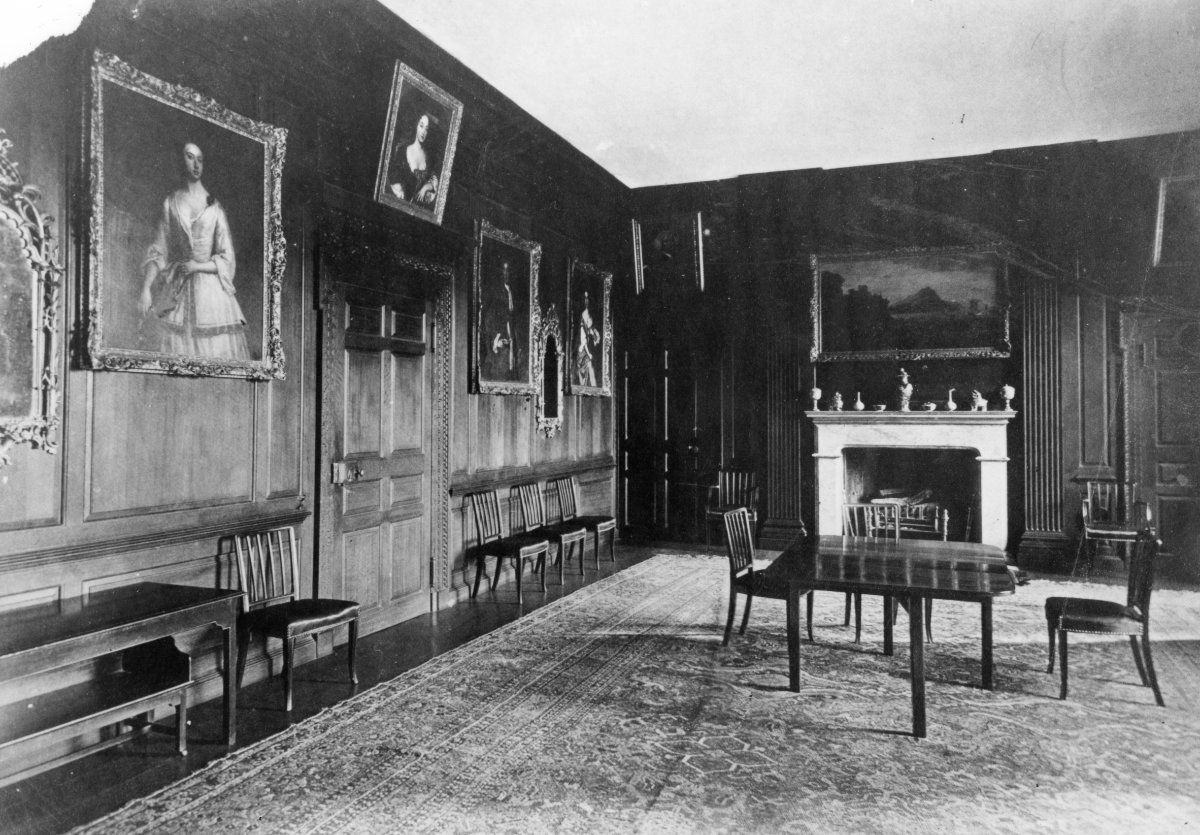 Fig. 6 -- South end of the Dining Room (now The Warre Room) c.1872 Once the private living and sleeping quarters of Warre's ancestors, it was refitted in 1717 with sash windows, a new floor, a plaster ceiling and 160 yards of wainscoting (wooden panelling), with additional payments being made the following year for fresh curtains, sconces, and a marble chimney surround by James Paly of Bristol. The family's chief forms of entertainment here were reading, needlework, conversation, listening to, and playing, 'the musick', dancing, and card games. Music was a definite passion. A minstrels' gallery had overlooked the Great Hall from medieval times, Margaret Warre learned to play the spinet (a small harpsichord) at the age of sixteen, and there are frequent payments recorded in her personal papers well into the 1750s for fiddlers.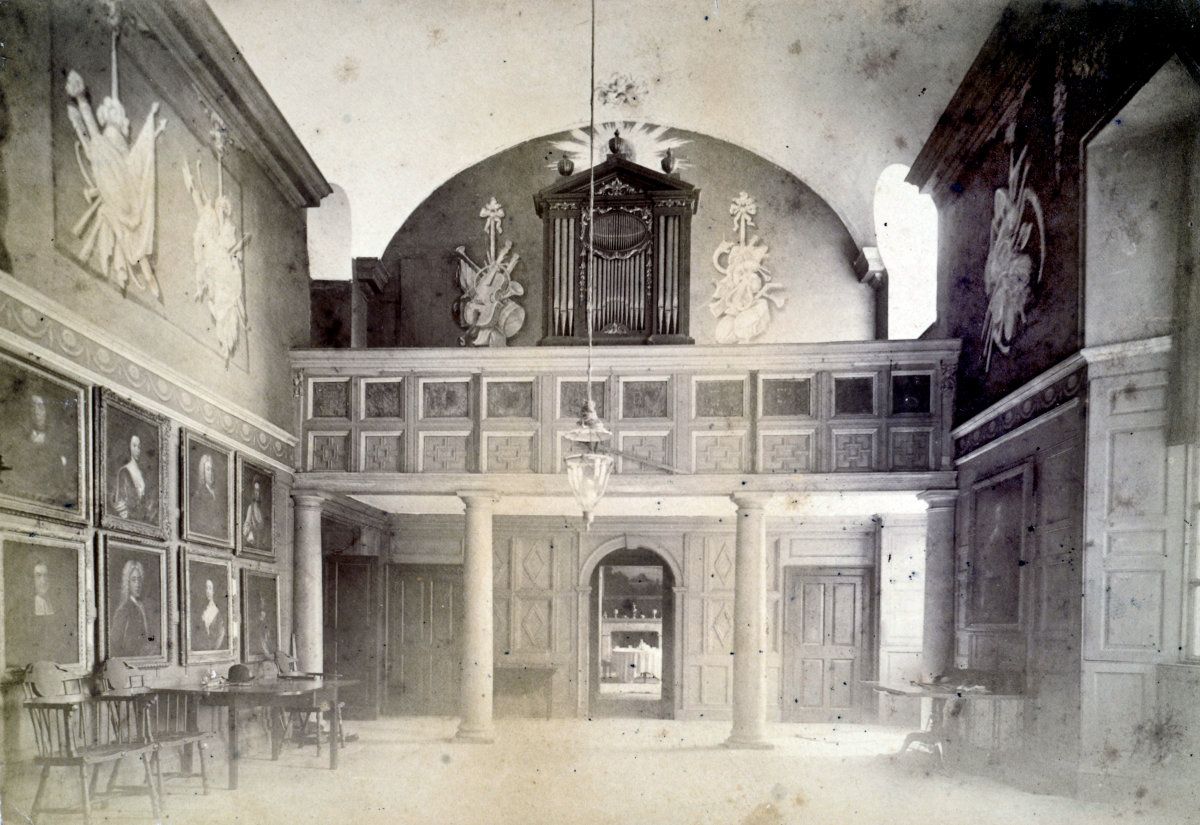 Fig. 7 -- South end of Great Hall with Minstrel's Gallery c.1872
The Hestercombe Library
The Hestercombe library, with its varied subject matter (history, geography, religion, music, theatre, philosophy, art, architecture etc.), reflected the marked increase in publishing that was brought about by the late 17th century surge in English literacy. Supplied in large part by two Taunton booksellers, Mr. Axe and Mr. Henning, it included such literary landmarks as Thomas Burnet's Telluris Theoria Sacra, or Sacred Theory of the Earth (1681, 1689), probably the most popular geological treatise of the 17th century; James Gibb's A Book of Architecture, containing designs of buildings and ornaments (1728), one of the most influential pattern books in the history of British architecture; and John Dryden's The Works of Virgil (1697), a masterpiece of translation illustrated with superb plates by Wenceslaus Hollar (1607-1677). There was also A general inventorie of the History of France, from the beginning of that Monarchie, unto the Treatie of Vervins, in 1598 by Jean de Serres, translated from French to English by E. Grimeston. (1607), Index Erythraei Virgiliano operi cujuslibet editionis ab A. M. Basso ... accommodatus by Nicolaus Erythraeus (1717), and The history of England: from the first entrance of Julius Caesar and the Romans to the end of the reign of King James the first containing the space of 1678 years by Laurence Echard (1707).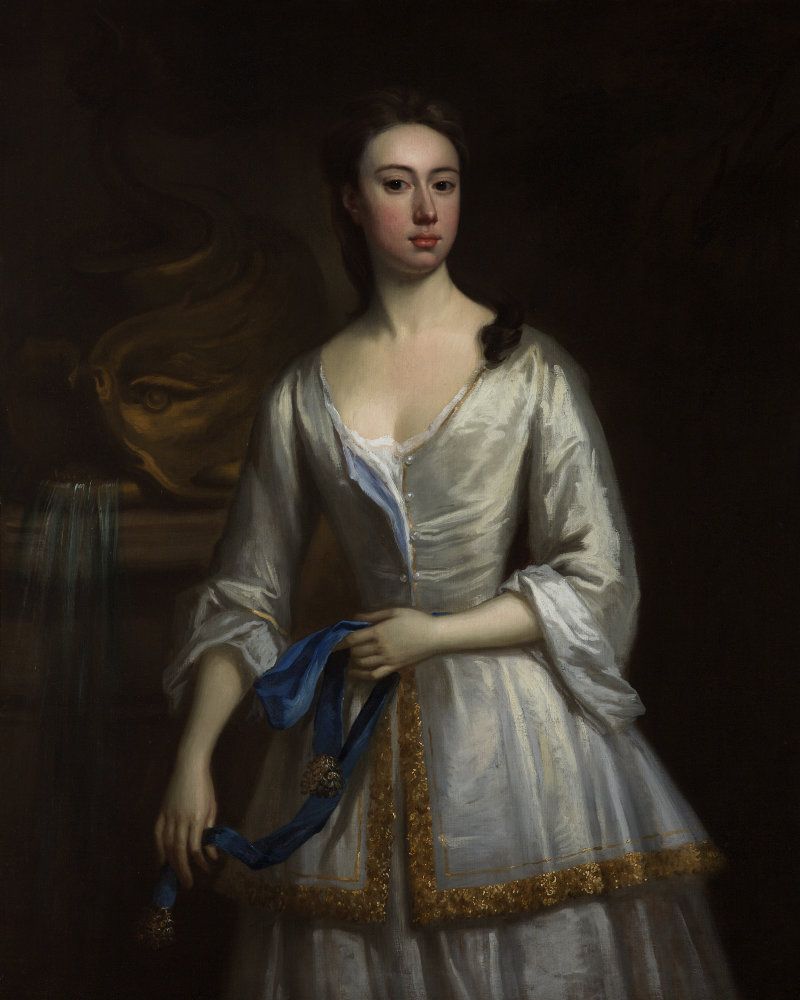 Fig. 8 -- Margaret Warre (1694-1758), only daughter of Sir Francis Warre, Bart, of Hestercombe, and wife of John Bampfylde (1691-1750), married 1718.
The social network
The social connections cultivated by the Warres and the Bampfyldes were wide-ranging, reflecting in large part, their politics. Sir Francis Warre's accounts record visits to various Somerset estates owned primarily by like-minded Tories, the majority of them MPs. They include Nettlecombe, Minehead (Sir John Trevelyan), Forde Abbey, Chard (Francis Gwynn), Orchard Portman, Taunton (Henry Seymour Portman), Dunster Castle (Alexander Luttrell) and Combe, Gittisham, Devon (Sir Thomas Putt). There were also regular payments made to 'huntsmen' and 'keepers' who brought gifts of mainly venison from as far afield as Orchard Wyndham, Williton (Sir William Wyndham), Nynhead Court, Nynhead (William Sanford) and Hinton St. George (Sir John Poulett). John Bampfylde's accounts would later add Crowcombe Court (Thomas Carew, MP), Youlston Manor, Devon (Sir John Chichester, MP), Halswell, Goathurst, (Sir Halswell Tynte), Charlton House, Wraxall (Colonel John Codrington), Tetton House, Kingston St. Mary (Edward Dyke) and Mells Park, Frome (Colonel Thomas Strangways Horner) to the list.
Sir Francis Warre: a multifaceted career
Out of doors, apart from overseeing the day-to-day running of the Estate and its outlying properties, Sir Francis supervised the landscaping of Hestercombe, indulged his passion for hunting, and toured the Somerset countryside astride his grey or in the comfort of a splendid calash (open carriage with a falling hood & facing passenger seats), decorated with brass fittings and upholstery of lace, leather and serge. The pipe-smoking baronet also made regular visits to London, principally in the winter months to honour his parliamentary obligations. Accompanied by his wife and a retinue of servants, Sir Francis usually occupied a rented house in Westminster. His most lasting contribution to the Hestercombe landscape was the creation of a series of ponds. These were built by one of the Estate's stonemasons, 'Captain' William Heale, between 1698 and 1706 and are still extant in the 'easter' and 'wester' combes of the site and in Hawkmoore, which then, as now, forms part of Volis Farm on the raised ground to the northwest of Hestercombe House. Intriguingly, the 'poole garden', now thought to have originated as an Elizabethan water garden, was mentioned in the accounts for 1714 and there were payments made in 1713, 1714 and 1715 to Thomas Godfrey of Westminster gardener, for trees and seeds. Sir Francis Warre fell seriously ill in late November 1718 and died a short time later (1 December) despite the last minute ministrations of his personal doctor, the highly regarded Wells physician, Dr. Claver Morris. The cause of death appears to have been a sudden and fatal attack of cerebral oedema, also known as 'water on the brain' (a build-up of fluid that causes the pressure to rise inside the skull), possibly brought on by a stroke.
"I went from Sr John Trevelian's to Sr Francis Warr at Hestercombe. I came thither about 3, and found Sr Francis seiz'd with a from a translation of a Dropsie to the Brain. I told my Lady Warr I had no hopes of relieving him and that I thought it as improbable as to throw 6 upon 6 Dies. Prescribed and lodg'd at Sr Francis Warr's." (The Diary of a West Country Physician A.D. 1684-1726, ed. by Edmund Hobhouse [Rochester: Stanhope Press, 1934] p. 66.)
Sir Francis Warre was buried in the family vault at Kingston ten days later. 'Being weake in Body but of perfect mind and memory' (fearing the worst he had made his will the day before Dr. Morris arrived at Hestercombe on 29 November) Sir Francis left the manor of Middlezoy to his daughter, Margaret, the not inconsiderable sum of £100 to John Roberts (probably a faithful servant), and the balance of his chattel and personal estate to his 'deare' wife of 27 years, Margaret Harbin.
Find out more
Find out more about Hestercombe's history, or pay us a visit and explore our estate.
Notes on this essay
Hestercombe diorite was incorporated into the walls of Taunton Castle when William Raleigh, bishop of Winchester, improved it in 1246-47. [Peter Leach ed., 'The Archaeology of Taunton, Excavations and Field work to 1980, Western Archaeological Trust Excavation Monograph, 8 (1980), 11-16 (p.12)]
Robert Furber (c.1674 – 1756) established his Kensington nursery soon after 1700 near Hyde Park Gate and Kensington Gore. He bought some of the plants collected at Fulham Palace by Henry Compton, Bishop of London, after the bishop's death in 1713, and by 1724 his stock was rich enough for some of his exotic trees and shrubs to be listed by Philip Miller in his Gardeners and Florists Dictionary (1724). A member of the Society of Gardeners, by 1727 Furber had issued two catalogues of his own, one of English and Foreign Trees, the other of the Best and Choicest Fruit Trees. But it was with his pictorial catalogue of the Twelve Months of Flowers that he first made his name. The popularity and success of the original series of this set is attested to by the fact that between 1732 - 1760 no less than six pirated publications, with reduced copies of the plates, were being offered for sale.
Three catalogues of Furber's nursery survive: that printed by Philip Miller in 1724 as an appendix to The Gardener's and Florist's Dictionary, volume II, with Latin names for most of the woodey species; Furber's own catalogue of trees, shrubs and climbers dated 1727 (of which copies survive, with his catalogue of fruit-trees, in the Bodleian Library at Oxford and in the British Library); and the list to be deduced from the frontispiece and twelve plates of his pictorial Twelve Months of Flowers issued in 1730-32.