In our 20th year since opening to the public it's time to celebrate this amazing place and look forward to the future. The recent launch of the Hestercombe Gardens Appeal aims to mark this amazing milestone and raise £1.5m and complete the restoration of this special place.
Once a scene of crumbling buildings, thick with overgrown trees and historic features almost lost forever, Hestercombe's historic landscape has been brought back to life. Much progress has been made and three complete period gardens are enjoyed by thousands of people every year - however, many areas still await restoration.
We still need your help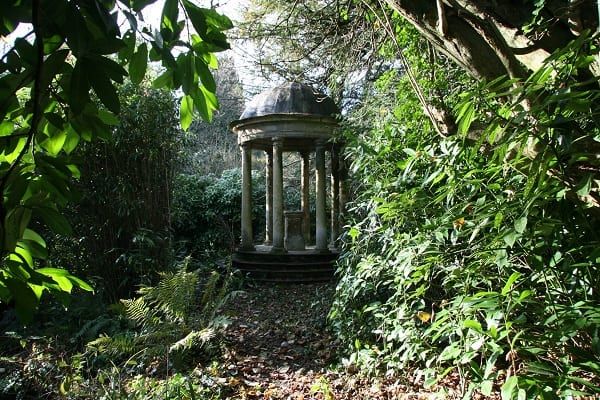 The planned design is modelled on the rotunda at Batheaston Villa near Bath
Through this appeal key areas of the gardens will be brought back to life – restoring and recreating lost garden features. Part of the money raised through the appeal will go towards the recreation of "Sibyl's Temple", an 18th century rotunda in the Landscape Garden. Footings for a rotunda have already been established and the plan to recreate the temple from drawings and descriptions will link the design with the Great Cascade and the Gothic Alcove, both key features in Hestercombe's Landscape Gardens, reinforcing the original design.
Other garden projects include the reinstatement of the lime tree avenue along the west side of the Formal Garden, which has been traced by old maps, plans and photographs. This avenue of trees was part of the original Lutyens design, planted between 1904-1908.
A rustic Hermitage situated overlooking the Vale of Taunton and dating to c1755 is also to be recreated and reinstated on its original site, the foundations of which were uncovered by archaeologists only relatively recently.
Other significant developments include the recreation of an unusual garden kitchen attached to the Octagon Summerhouse and an exceptionally rare Elizabethan Water Garden - one of just a handful left in the country, adding a fourth period of history to Hestercombe's unique collection of gardens.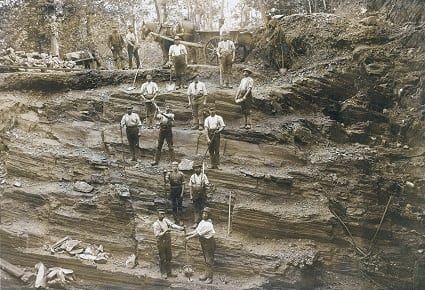 Hestercombe Quarry workers, 1903
Donating to our appeal is simple. You can either visit our website, call us on 01823 413923, or donate in person at Hestercombe. To donate £10 you can also text HEST20£10 to 70070.
Would you like to know more about our history? Visit our exhibition 'Completing the Picture'. Celebrating 20 years with 20 amazing images. The exhibition shares some of the most incredible pictures from our archives in a mini-exhibition, charting the story of Hestercombe - from designed Arcadian landscape, to its ruin and highly acclaimed incredible restoration. Open 11-5pm in Hestercombe House.