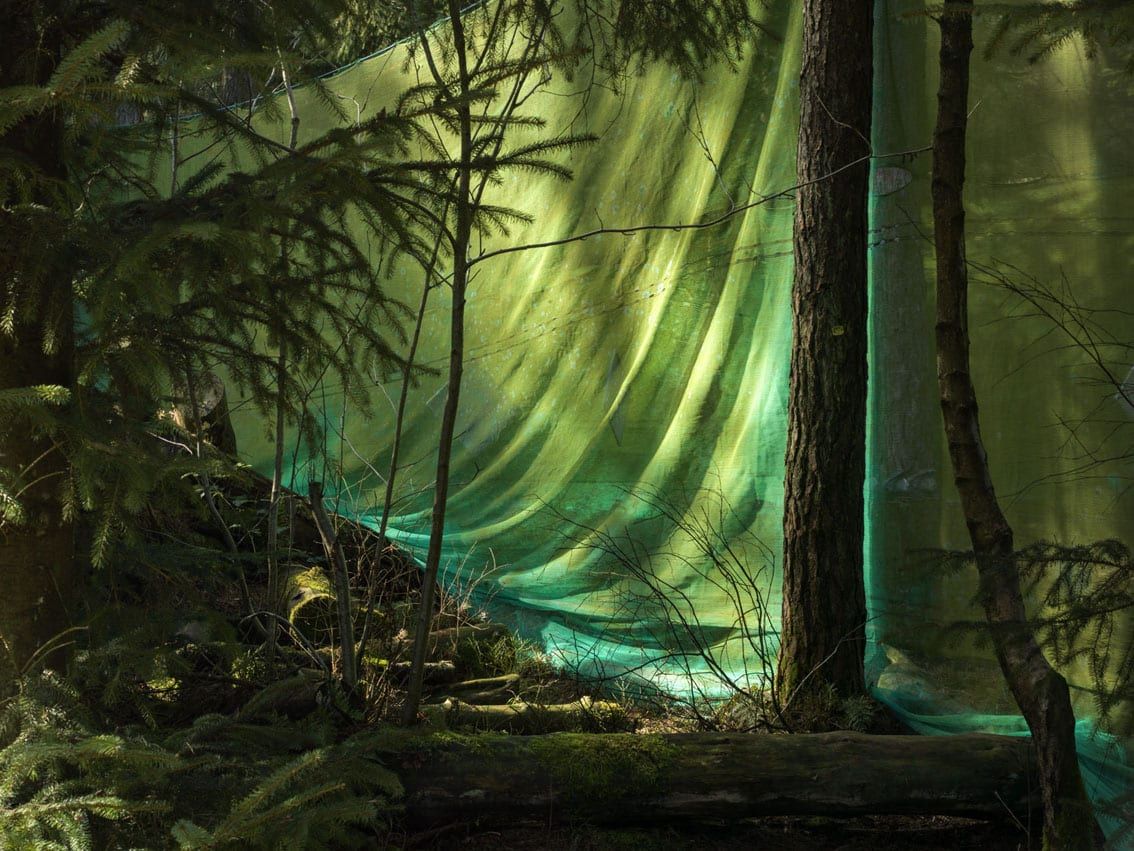 Helen Sear, Forest Operations, 2018, Giclée print
As our new exhibition by international artist Helen Sear opens we speak to her about her work:
Where did you begin your career as an artist and how has this developed?
I studied Fine Art at Reading University and later at University College London's Slade School and didn't really think of art as a career at the time. It was just something I was passionate about, and a vehicle to express my thoughts and feelings. Since then I have continued to make and exhibit my work and until recently was also involved in various teaching roles in various Higher Education institutions in the UK.
Can you tell us about your current exhibition?
All the works in the exhibition have been made since 2015 and include some cornerstone pieces from my exhibition at the 56th Venice Biennale when I was the representative for Wales. Since that solo exhibition I have made 2 new video works, and several series of photographic work, and Hestercombe House presents a wonderful opportunity to present the works together in a new context and in fresh configurations.
I am primarily interested in the coexistence of human, animal and natural worlds and to relationships between
technologies and mythologies. Working with lens based-media has allowed me to challenge the dominance of the human eye and bring the body back into the act of looking. There are very definite links between the works and I love the challenge of reinvigorating work through its installation. It is always surprising to me how artworks can change and never remain static. I am making one piece specifically designed for the entire wall behind the grand staircase in Hestercombe that I am very excited about how it will affect the architecture of the space.
How did you come up with the title?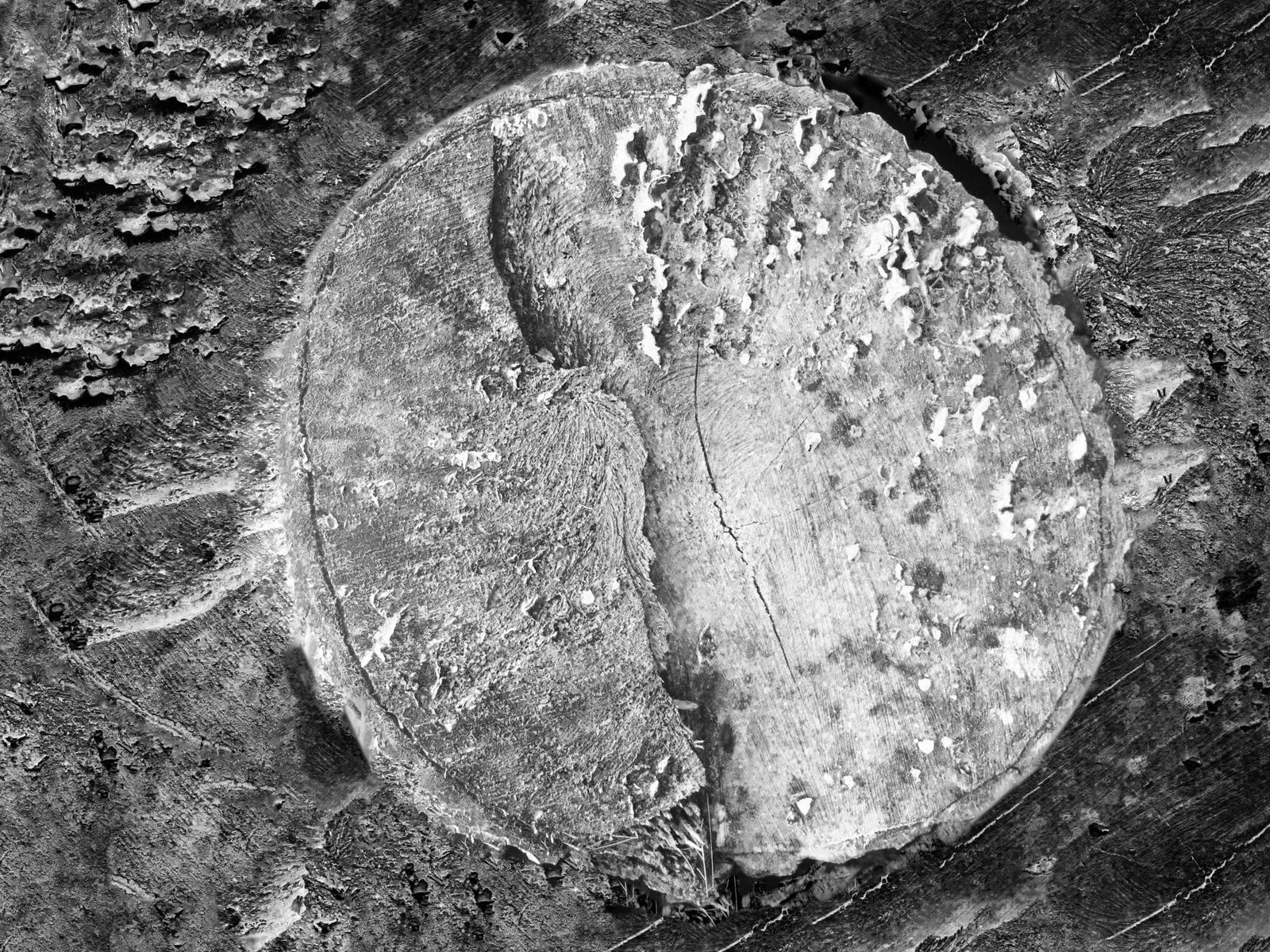 Helen Sear, The Woods will Turn: Sawn 3, 2018, Giclée print
The title comes from the 1975 book, The Experience of Landscape by Jay Appleton where he presented a prospect/refuge theory of human aesthetics, whereby the idea of beauty in a landscape might be linked to a much earlier human necessity for survival. Landscape whether an artistic representation or an actual view relies on a spectator and usually one observing from a fixed position. The camera is also associated with a fixed-point perspective and this position of human centrality and dominance in the world is something I have been interested in undermining or playing with in various ways. Through various devices and processes I want the artwork to activate the viewer.
Where do you create your work?
My process of collecting material is very intuitive and a bit like a hunter/gatherer. I had the pile of sticks pulled out of the ground after a rapeseed field was harvested in the corner of my studio for 3 years before I knew that they were going to be an integral part of the lightbox …caetera fumus. They reminded me of a quiver of arrows, but it was only when I started to look at Mantegna's St. Sebastian paintings that I knew how the work could be resolved. I live and work in the countryside and spent time walking, often returning to the same site time and time again until I understand what I am looking for/at and how things relate to their site or resonate with to art history/theory and broader themes. I often find I am chasing light or a particular atmosphere and always remain open to the chance encounter. So although my internal references have grown with time, I very rarely plan something in advance or know where or how something is going to end up or be resolved. Research and spending time in a place coexist and ideas develop through the process of making.
I have a studio to test out the physicality and scale of work but the computer has also become another form of studio for me.
Has your style changed over time?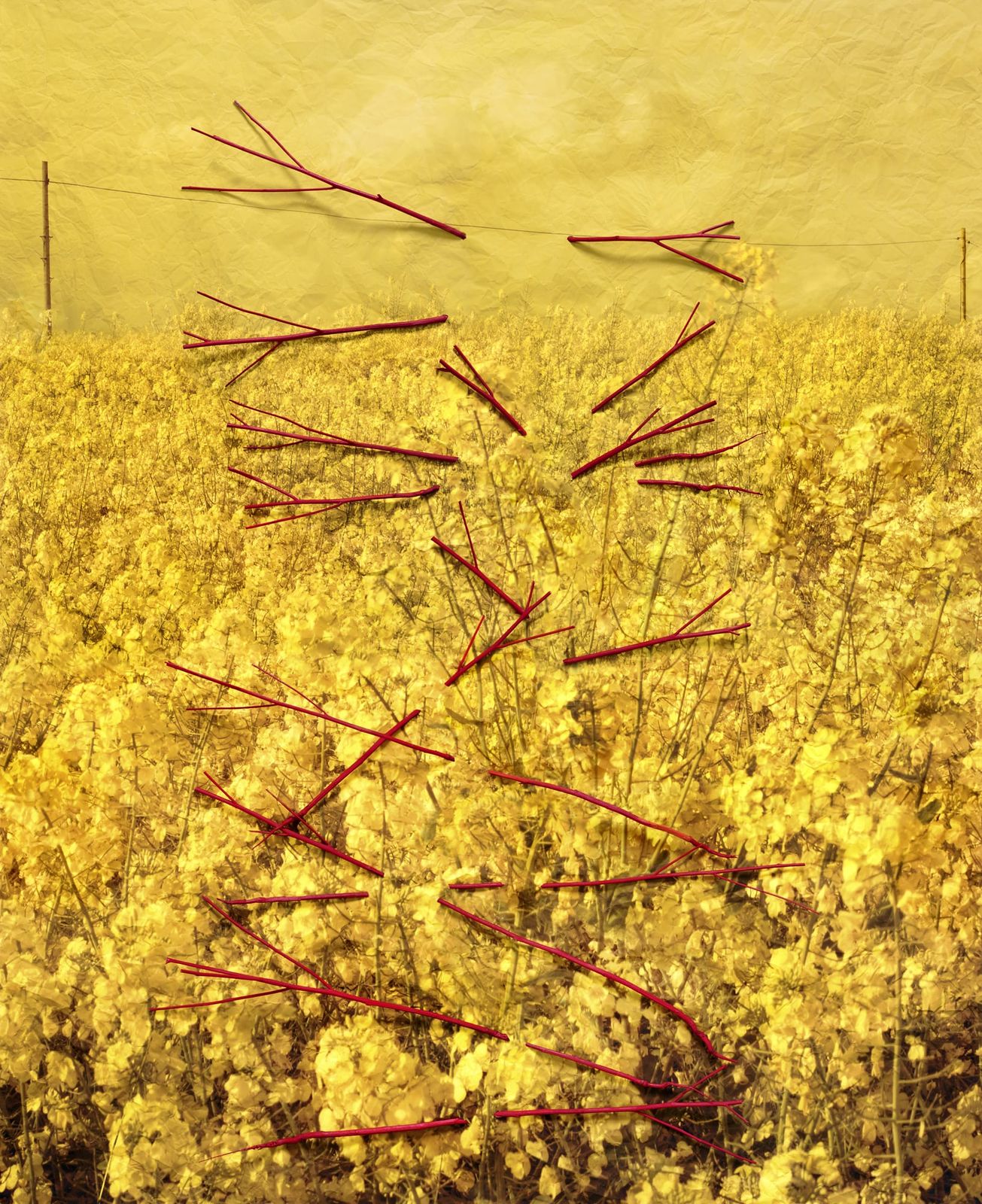 Helen Sear, Caetera Fumus, 2015
I am not sure what you mean by style, certain technologies have changed that might have a bearing on the meaning of the work but my interests and influences remain much the same as when I started out, I just understand what I am doing a lot better now, each new work has its own dynamic and specificity as part of a body of work that has developed over 35 years.
What is your favourite museum or gallery to visit?
I love visiting any museum or gallery from the Metropolitan in New York to Ryedale Folk Museum, North Yorkshire.
What or who inspires you?
Discovering new books, re-reading old books, science fiction, looking at the painting, Jane Campion, Terrence Malick, François Truffaut, Jean Cocteau, the list is endless when it comes to cinema and music, conversations with friends and strangers, young artists, old artists, dead artists. People who want to make things happen. Europe.
What interests you about Hestercombe?
Apart from its association with Lutyens and Gertrude Jekyll, I think Hestercombe is very interesting as a place in flux, something that existed privately for the enjoyment of the few, was abandoned and is been lovingly rediscovered and restored, not as a static museum, but as a centre for art and landscape that will provide an important public historical resource alongside a focus on contemporary art.
What's next for you?
I am currently working on the lead Commission with Photoworks in Brighton and CONNECT to make photographic works for 8 waiting rooms in the 3 T's Sussex hospital redevelopment due for completion in 2020. I have also been invited to be an artist in residence for 3 weeks in Cassilhaus North Carolina in August and will have a solo exhibition at Galerie Pennings Eindhoven in 2019.
prospect refuge hazard 2 by Helen Sear exhibition runs 14 July - 28 October
at the Hestercombe Gallery. Open from 11am every day.