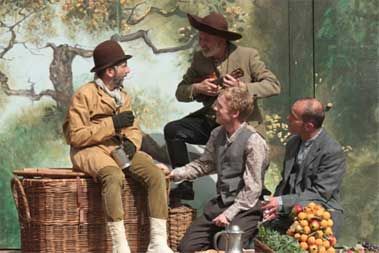 The Brewhouse presents ' As you Like It' so book now!
The Brewhouse Theatre & Arts Centre presents
Shakespeare's Globe's As You Like It
Thursday 19 – Sunday 22 July 2pm & 7.30pm
Vivary Park, Taunton
With the World Shakespeare Festival in full swing there's never been a better time to come and enjoy some classic outdoor theatre. As You Like It features memorable twists and turns with disguised characters and confused courting.

The play is a firm favourite among Shakespeare's comedies and includes cross-dressing and love-notes; poetry and brilliant conversation; gentle satire, slapstick and passion.

Rosalind, the daughter of a banished duke, falls in love with Orlando at a wrestling match, but her uncle, jealous of her popularity banishes her from court. Disguised as a boy she seeks out her father and his friends in the Forest of Arden. Here she meets Orlando again and, in disguise as a young man, teaches him about love.
Shakespeare's Globe are widely respected as the ultimate re-creators of Shakespeare's great plays and are sure to provide a stunning evening of entertainment. Be sure to bring a picnic.
Tickets: £16, 60+ £16, Conc. £11
Box Office: 01823 283244
And if you like this - you'll LOVE: FOLKSY THEATRE'S 'Much Ado About Nothing' at Hestercombe for one night only 19th August on the beautiful ORANGERY LAWNS at Hestercombe - book today - www.folksytheatre.co.uk or direct with us here.