By Rosemary Pease née Portman
The wonderful thing about Hestercombe is that so many people love the place… the spirit of those beautiful gardens and the feeling (that I've often picked up when talking to visitors and to the wonderfully enthusiastic staff) that part of it belongs to them personally as well as to thousands of others.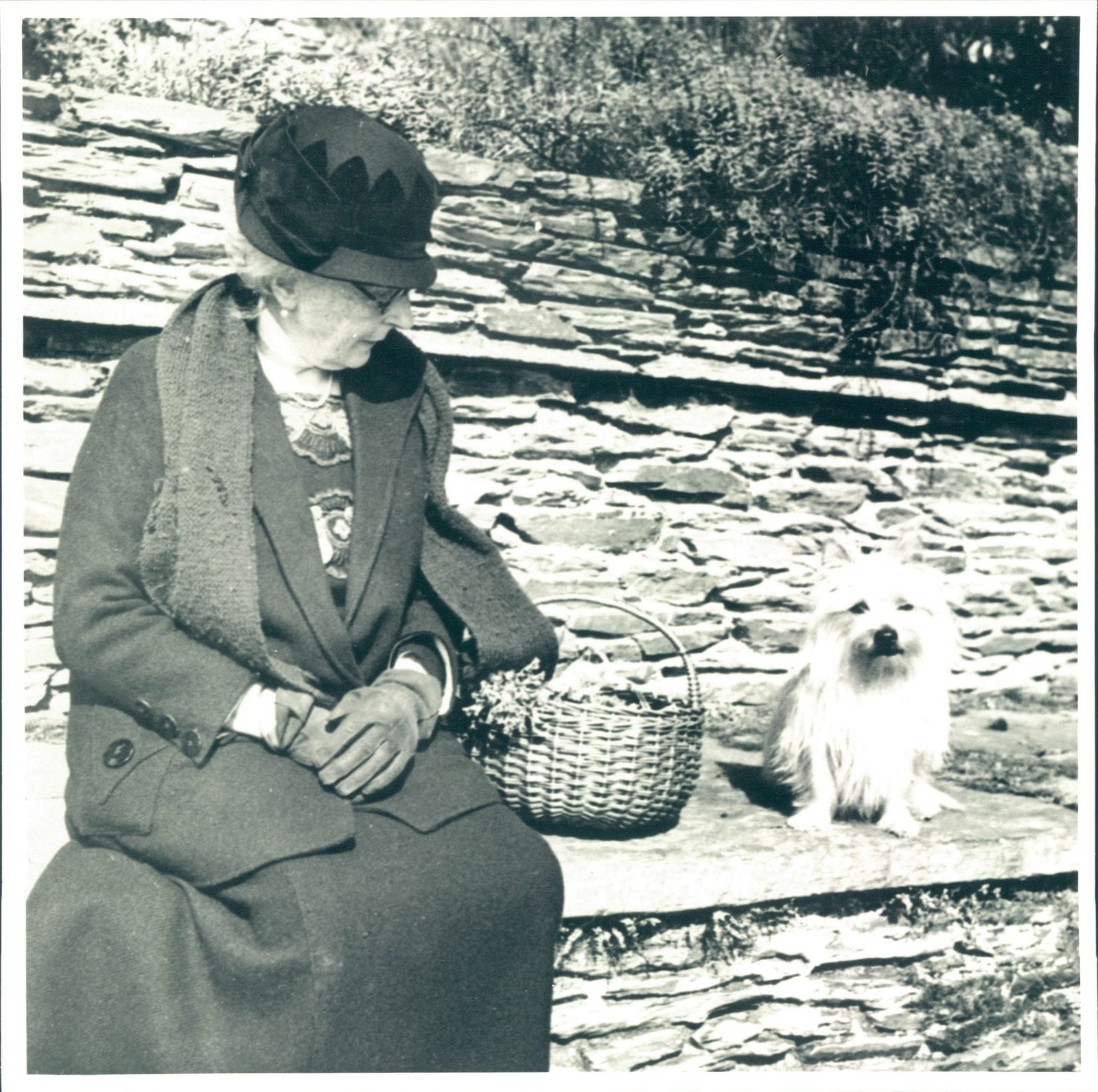 Mrs. Portman with her dog 1933
For this reason, I wanted to share some memories (from the viewpoint of a much younger relation) of the Hon Mrs Portman who lived in the house for over 50 years and whom I knew so well and loved dearly. Her husband, Edward, known in the family as Teddy, moved into the house as a bachelor before their marriage at the end of the 19th century. He was the eldest of the five sons of the second Viscount Portman, and heir to the large Portman Estates in Somerset and elsewhere, but he died in his fifties in 1911 before his own Father's death. My Great Grandfather stipulated in his will that Constance Portman, his widowed daughter in law, should never be turned out of Hestercombe by the family, although the rest of the Somerset property (amounting to 31000 acres) was entailed to the Viscount Portmans of the future. Hence, after my father, the fifth Viscount, died in 1942, aged 44 years, and leaving no male heirs, the rest of the estate was sold by his successor, my Great Uncle Gerald. Con Con, as my sister and I called her, lived on in the house until she died in 1951, in her late 90s.
She had been born in early 1850, daughter of Lord Wenlock, and niece of the first Duke of Westminster. No one could have experienced more dramatic changes to the social structure in our country and the lifestyle of the aristocracy! My sister and I were devoted to her, and she was a cornerstone of our family background. As she lived within reach of our home at Staple Fitzpaine, she was the substitute for our two Grandmothers who had both lived far away and died when I was a small child.
The dominant influence in Con Con's own life was her religion. Her relationship with her God was her guiding star. Although she did not force-feed us children on her Christianity, I believe we were always subconsciously aware that she had a hotline to God. Perhaps surprisingly, we did not find this intimidating. Every day she went to her 'Reading Room' in the grounds to pray and read the scriptures, and Services were often held there.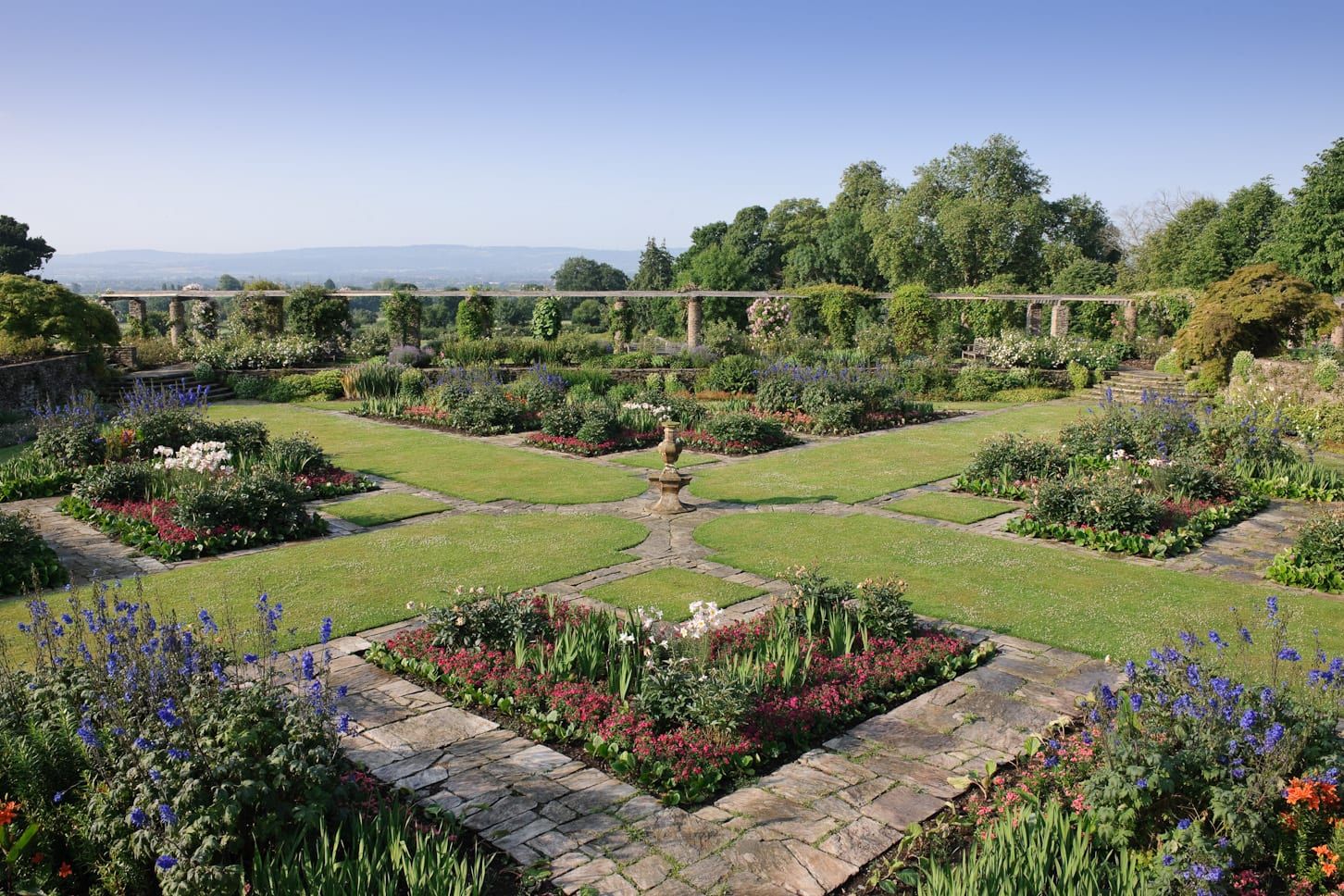 Con Con was responsible for the creation of the Lutyens garden. She had asked Uncle Teddy, shortly after their marriage, in her gentle, modest way, if she could have a small extra amount of garden on the south side of the house. Edwin Lutyens was summoned and the rest is history! She adored the whole garden and was deeply interested in it, but confided to my Mother that her favourite part of all was the Coombe. However, she found the Witch House spooky!
When my Mother was suddenly widowed, aged 41 years, Con Con was her chief support in her bereavement. They were devoted to each other and had many characteristics in common including a certain shyness, combined with a great sense of humour. Mum always kept a small photo of Con Con on her bedroom mantelpiece until the day she died. I, too, appreciate to this day Con Con's loving, sympathetic and practical handling of us two girls following our father's death. During wartime, and afterwards, when petrol rationing was very strict, and my mother's allowance scarcely stretched to enabling her to drive once a week to Taunton for supplies, she would eke it out to enable us to visit Hestercombe after shopping. On our visits we generally played in the garden, in fine weather, and had tea in the orangery when Mr Bradbury, the butler, would bring down a loaded tray of silver teapot etc, scones and jam and dark yellow butter from the Jersey house cow, which later died, not to be replaced. Occasionally she would have a childrens' party for us and our friends, and I remember running races, organised, by the grown-ups, on the lawn below the orangery. Sometimes she would come over to see us at Staple, bringing flowers from her favourite plants and shrubs that had survived the war, driven by Fred Humphreys, the chauffeur, also very elderly by the end of the war, whose father had been coachman at Hestercombe before the invention of "motors".
In wartime, when my father was home on leave from his army service, he would spend some of his very limited time in going to see his aunt, and to keep an eye on the property there which was managed under the umbrella of the rest of the estate.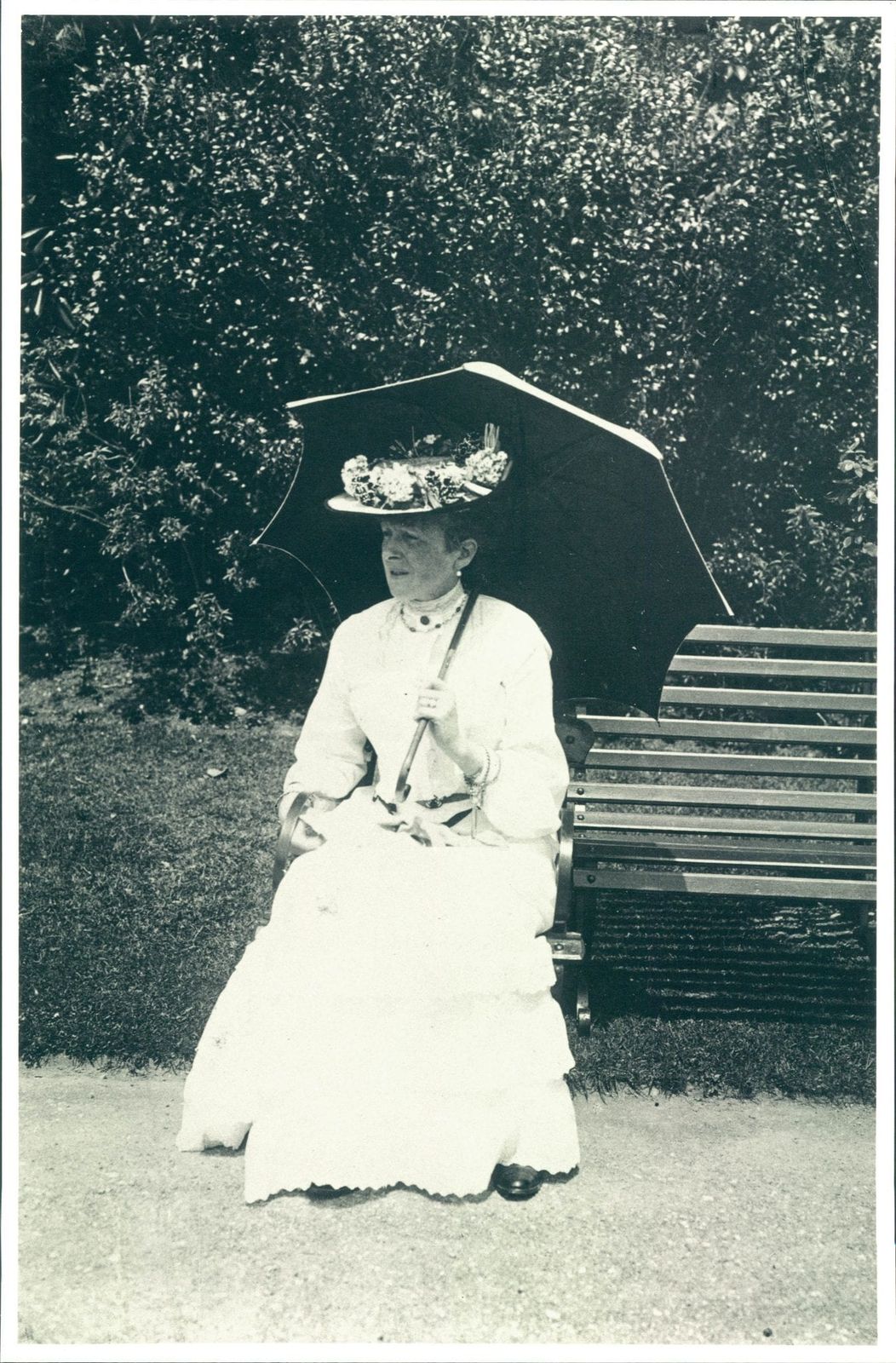 Mrs. Portman 1904
With the outbreak of war in 1939, Hestercombe had been requisitioned by the Government to be occupied by hundreds of soldiers in the house itself, and in the grounds, first by the British army, and then the Americans. Con Con continued to live in the house, in four rooms on the first floor, with her elderly lady's maid as her companion. It was a bizarre situation for this lady, already into her late 80s, always dressed in Edwardian 'widows' weeds' never out of doors without a hat, always with great dignity. After the death of her devoted maid, she had no other female company in these military surroundings. She herself found her predicament laughable and carried on regardless.
The way my Great Aunt adapted to life in this way with stoicism, humour and versatility, indicated how unassuming and flexible a person she was. My Mother remarked how it was typical of Con Con that her grave is so relatively modest compared to some other Portmans in the Cheddon churchyard.
I have often felt that maybe from her seat in the skies she has contributed to the almost miraculous success that Philip and his team have made of the restoration of Hestercombe. I am certain she would be rejoicing in the fact that so many thousands of people find happiness there now.
Thank you to Rosemary for sharing this heartwarming account of her Aunt.