As horticulturalists, plastic has historically been a huge part of our gardening efforts. Just think of all the seed trays, plant pots and plastic watering cans we get through, even in a small garden!
Unfortunately, these items can take hundreds of years to break down. In the meantime, when we no longer have use for them, unwanted plastics clog up our oceans and languish in a landfill. The effect of these piles of plastic on the natural world and wildlife can be disastrous.
That's why we've put together these top tips for how you can move towards plastic-free gardening. Just as many hands make light work, many gardeners doing their bit makes a difference. The gardens – and the creatures that live within them – will thank us for it. So, what changes can you make at home to make a difference?
Plastic-free plant pot ideas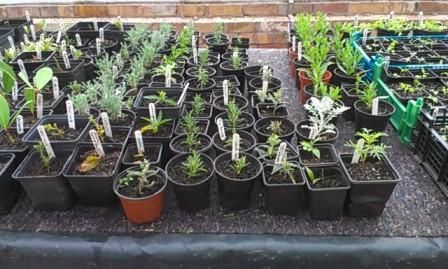 If you've been watching Gardener's World this year, you'll have seen presenter Monty Don testing all kinds of plastic-free gardening tools. Coir pots proved particularly effective for Monty, and their similarity in design to plastic pots makes them a simple swap.
Head Gardener Claire also has an idea: "Look at pots from the Hairy Pot Company, who make pots from coconut husks. Vipots also sell biodegradable pots."
Sow seeds into empty toilet rolls stood up on their ends and even into homemade paper pots, too. Bear in mind that these will biodegrade with watering. This means they're best matched with fast-growing seedlings that will soon be potted on. Alternatively, once large enough and hardened off, plant the seedling (toilet roll and all!) in the ground, where the pots will continue to break down.
Head Gardener Claire says, "I stand the rolls in a biscuit tin to fill with compost and plant larger seeds straight into them. Once planted out, the rolls tend to biodegrade over the year as the roots push through. This is a great option for plants that don't like their roots being disturbed, like sweet peas."
Another simple solution is to turn to traditional wooden seed trays. They are more expensive than their plastic counterparts, but they should last longer, especially if you can find a plastic-free liner. They look far more attractive, too. "We're also using wooden lollypop sticks for plant labels now. The plastic ones we have leftover, we rub clean and reuse until they break," adds Claire.
You probably won't be able to banish every plastic pot from your plot, but make some of these changes and you'll be much closer to plastic-free gardening than you were before.
Consider your containers
Wooden and terracotta pots might set you back more than a plastic planter, but we think it's money well spent. It's also an essential change if you want to move towards plastic-free gardening. This is both because plastic won't have a place on your own patch and because the power of retail will encourage suppliers to rethink their product offerings, too. You'll find a lovely selection of terracotta pots in our Plant Centre, if you fancy stocking up.
Reuse and recycle
It can be pretty tricky to find compost sold in anything other than a big plastic sack. Similarly, when you head to the garden centre, the majority of the plants will be growing in plastic pots. In the case of compost, if you've got room to make your own in wooden or metal bins, do.
Claire has a few more tips for us. "We make our own compost at Hestercombe but when we do need extra, we buy it in bulk in dumpy bags, which means fewer bags are used. Some gardeners also take a cardboard box to the garden centre or nursery to put their new plants in. They then give the plastic pot back to the shop to reuse or recycle."
When it is difficult to achieve plastic-free gardening completely, put the plastic you do buy to work. If the plastic item takes decades, or even centuries, to break down, think how many times it could be reused. Save up old compost bags to fill with fallen leaves and make leaf mould, or to collect manure in.
Store plastic pots out of direct sunlight and reuse them until they break to pot on seedlings and plants. When your plastic pots come to the end of their working lives, replace them with more sustainable alternatives, but use them until then.
Looking to the future
Here at Hestercombe, we are committed to taking environmentally friendly approaches where possible. That's why we manage vital habitats for wildlife and heat the site sustainably using a biomass boiler. Taking our own steps to tackle plastic use, we now serve ice creams in compostable tubs with compostable spoons too.
When choosing your own plastic-free gardening products, pay attention to the labels. If it says the pot is degradable, this means that the pot will break down into smaller parts over time. But that is not the solution, because the smaller parts and plastics remain. Biodegradable, on the other hand, means the pot really will be broken down. This is the label you're looking for.
"While horticulture and forestry have been slow to move away from single-use plastics, gardeners are well known for recycling items and using their initiative. I'm hopeful for more plastic-free gardening developments in future," sums up Claire.
The issue of plastic usage doesn't just concern gardens, but our oceans too. Find out more about how you can help stop plastic getting into the sea and harming wildlife.