We were on cloud nine when we won the European Gardens Award in early October, so imagine our delight when we picked up a gold in the Bath, Bristol and Somerset Tourism Awards at the end of the same month!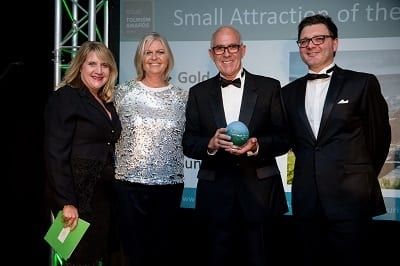 Philip White and Richard Mira collecting the award for Small Attraction of the Year.
We were up against some tough competition in the Small Attraction of the Year category, so our hats go off to all the dedicated staff, volunteers, members and visitors who helped Hestercombe take away this prestigious award. The awards, which feed into the South West Tourism Awards and the national Visit England Awards, are held every year and celebrate the great tourism progress across the region and judging takes into account the views of mystery shopper judges as well as checking up on reviews and social media to make a final decision.
Both Philip White (CEO) and General Manager Richard Mira, went along to the awards night at the Doubletree Hilton at Cadbury House in Congresbury and enjoyed a fabulous evening along with fellow contenders and tourism colleagues.
Philip said: "To have been recognised as a top destination in the region is a great honour, and we are delighted the work of our dedicated staff, volunteers, and supporters has paid off in helping us bring this award back to Somerset. We were up against some strong competition and this is testament to the support of everybody who is so involved with the preservation, restoration and development of Hestercombe."
Now we've got our fingers crossed for the next stage of the competition, at the South West Tourism Awards. Wish us luck!