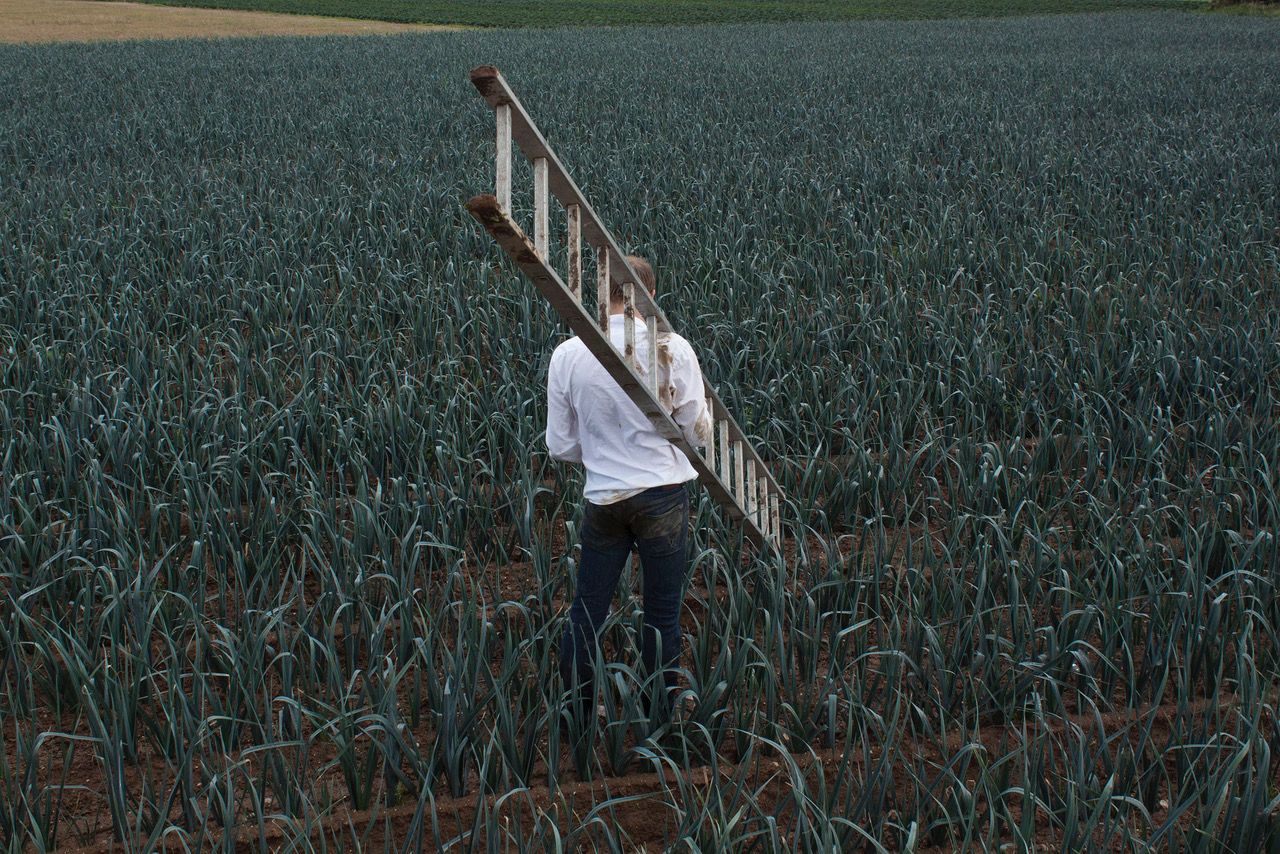 Image: 'Quenanville as Antipode' (detail), slideshow + 11 digital prints, 2014
Simon Faithfull exhibition 'Elsewhen' at Hestercombe Gallery, Taunton
9 March – 30 June 2019 A new exhibition by Simon Faithfull brings together a series of works which allow gallery visitors to orientate themselves in relation to places across the planet. Created in response to Hestercombe and its gardens, the solo exhibition Elsewhen brings together a series of works and interventions by internationally acclaimed artist Simon Faithfull. These include:
A huge earth cutting which shows the speed that the earth's surface is moving at that particular latitude.
Drawings on the gallery windows which show places across the earth on the exact compass bearing that the viewer is looking out.
A Garden of Time – drawings of plants from across the world; plants that never existed in one place at the same time, but form an imaginary garden that the artist has encountered through time and space.
The artworks try to connect the local, everyday scale of our normal lives to the wider, global scale of the planet. Many of Faithfull's works subjectively map the planet that the artist finds himself on – attempting to understand his place in both time and space. The artist often brings home personal accounts of far-flung places to create what he calls 'An Expanding Atlas of Subjectivity'. Simon Faithfull said: "Through these works, I'm orientating myself on a planet which is itself, orbiting a sun. Trying to visualise how this global scale meets the local scale of someone standing on a lawn in Somerset." Curator Tim Martin said: "Our inability to deal easily with these huge scales however means that this 'orientation device' can in fact feel more 'disorientating' rather than reassuring. The artworks ask questions about where we find ourselves and perhaps undermine some of our comfortable delusions about the stability and certainty of our place within the wider universe - orientation as an aid to getting lost!" Over the last five years, Hestercombe has developed a contemporary arts programme which has included work by Richard Long, Tracey Emin, Marc Quinn, Peter Doig and Mark Wallinger, with newly commissioned art by Tania Kovats, Clare Woods, Helen Sear, Tim Knowles and Simon Hitchens. Focusing on the relationship between art and landscape, Hestercombe Gallery is a place for artists and designers to collaborate, research and respond through residencies, exhibitions and audience engagement. This latest exhibition is part of the gallery's aim to present the best in contemporary arts practice. Elsewhen is at Hestercombe Gallery, Cheddon Fitzpaine, Taunton from 9 March to 30 June 2019.
Performance Lecture: 9th March 2019
Join Simon Faithfull for a performance lecture looking at the history, allure and possible evaporation of the place called 'Nowhere' and imaging a point outside time called 'Elsewhen'.
About Simon Faithfull
Simon Faithfull is a contemporary artist, based in Berlin, whose work has been exhibited extensively around the world. His work has been described as an attempt to understand and explore the planet as a sculptural object - to test its limits and report back from its extremities. Within his work Faithfull often builds teams of scientists, technicians and transmission experts to help him bring back a personal vision from the ends of the world. Recent projects include recording an island that vanishes into the North Sea, (featured in this exhibition), live-video transmission from a ship as it was deliberately sunk to create an artificial reef), and '0º00 Navigation part II' (a journey tracing the 0º line of longitude across Europe and Africa). Recent exhibitions include solo-shows at Galerie Polaris (Paris, 2017), Sprinhornhof Kunstverein, (Germany, 2016), Le Musée des Beaux-Arts Calais (France, 2015), and ICIA (Bath, UK, 2015) as well as group shows at ZK"R, Schloss Biesdorf (Berlin 2017), Asia Culture Centre (Gwanju, South Korea, 2016), Turner Contemporary (Margate, UK 2015), Palais de Tokyo (Paris, 2013), and Perth Institute of Contemporary Arts (Australia, 2012).
Hestercombe Gallery
Hestercombe Gallery opened in 2014 with the aim of showcasing the best in contemporary arts practice. Five years on from its opening Hestercombe Gallery has delivered a programme of high quality exhibitions in eight reclaimed spaces, a series of artists in residence, outdoor commissions as well as an engagement programme including talks, seminars and workshops involving artists, students, academics, teachers and experts from other disciplines. Exhibitions have included 'Leaping the Fence' and 'Terrain: Land into Art' featuring artists such as Tracey Emin, Marc Quinn, Peter Doig and Richard Long in partnership with Arts Council Collections. Solo shows by Tania Kovats, Clare Woods, Helen Sear and Tim Knowles. Group shows have included photographs by garden designer Gertrude Jekyll alongside photographers Sarah Jones, Helen Sear and Mark Edwards as well as showcasing historic works by painter and poet Rev.John Eagles together with contemporary work by Rebecca Chesney, Paul Desborough and Jem Southam. Hestercombe has engaged with writers Lizzie Lloyd, Sarah Kent, Cherry Smyth and Phil Owen; delivered garden commissions by Jennie Savage and Philippa Lawrence; and opened a second exhibition space for community and educational projects.