This is us planting up the Victorian Terrace back in November last year.
and this is it today....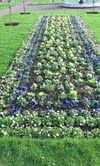 We plant it up with spring annuals in November. These then stay in until May when it is all taken out and replanted with a new design and new summer annuals.
We get Kim Legate, the archivist, to design our patterns. They are all based on original ideas for Victorian bedding scheme designs and we try to use plants that would have been popular in the era.
We are slightly limited as we have stopped using spring bulbs.. we may have well just bought them as feed for the squirrels!! Sometimes you just have to know when to give in. As a very wise man (a gardener from Barrington Court) once told me 'You can't fight nature'- and he had a good point!