Peter Renshaw, Director and Trustee of Viridor Credits visited Hestercombe this morning.
Photographs were taken at West Combe Dam in recognition of the generosity of Viridor Credits who continue to support Hestercombe's restoration.
DAM GOOD FOR BATS!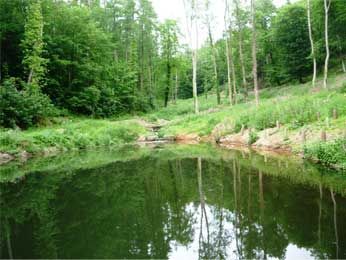 Restoration work completed in Hestercombe's secret West Combe Valley Hestercombe's significant population of bats are benefiting from a huge new feeding ground in the form of a large lake that has just been reinstated in the little-known West Combe Valley. The lake, the centre piece of the secret 13-acre valley just off the main drive, attracts a mass of insects, acting like a giant food bowl for the colony of endangered Lesser Horseshoe Bats and the even more rare Barbastrelle bats that frequent the estate. A generousaward from Viridor Credits has enabled the tumble down ancient dam, built in the valley in 1698 to create a reservoir, to be skilfully restored and, following intensive excavation work, the lake has subsequently filled with water again. The overgrown valley has also been cleared and re-planting is underway to introduce a range of shrubs that will further attract insects to add to the bat bonanza. Ultimately, West Combe will also be open to visitors at specified times for countryside walks. "'We continue to be enormously grateful to Viridor Credits for their on-going support at Hestercombe. The award we received towards the restoration work at West Combe has enabled us to open up this hidden gem of a valley; it's proving a real boon to the bats and we hope to be able to open up walks here for visitors at certain times" says a delighted, Philip White, Chief Executive of the Hestercombe Gardens Trust.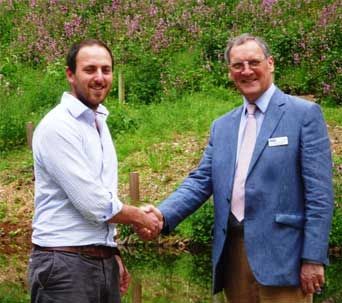 Photo: PETER RENSHAW, Director and Trustee of Viridor Credits and OLIVER WHITE, Operations Manager of the Hestercombe Gardens Trust on the reinstated dam wall in West Combe Valley where bats now enjoy the benefits of the restored lake.
For further information please contact Rebecca Pow on 07900 685 303 rebecca@powproductions.tv or Hestercombe 01823 413923
Notes to the Media
Viridor Credits actively seeks applications from not-for-profit groups, organisations and projects that would not necessarily obtain funding from other, often more complicated, grant schemes. Applications can be made for projects that fall into one of three categories, provided that the project is located within 10 miles of an active Viridor landfill site. They are: · Provision or maintenance of public amenity; · The conservation or promotion of biological diversity within the vicinity of a landfill site through o the provision, conservation, restoration or enhancement of a natural habitat, or o the maintenance or recovery of a species or its habitat on land or water · Maintenance, restoration or renovation of buildings of historical or architectural importance or those used for religious worship, provided they offer public access Viridor Credits Environmental Company is an environmental body and totally separate and independent from Viridor, the recycling solutions company.