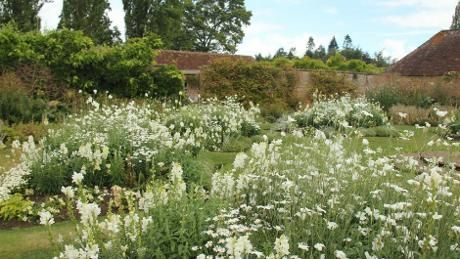 A bit of a different Monday morning this week: our remaining student gardener, Hannah, went over to Barrington Court for a couple of days experience with their gardens team and so to help her on her way Claire and I thought we'd have an early morning look too!
Having not really (dare I say it) visited too many of the beautiful gardens local to us, I was interested to see how Barrington compared. Arriving early (8am) we went through the back entrance to meet the gardeners, who Claire knew well, having done her training at Barrington. So a quick catch up and a passing of keys and we headed out into the kitchen gardens.
Barrington Court is an enormous house surrounded with small walled gardens and a fantastic vegetable patch that supplies their kitchens. Being a newly found vegetable grower I particularly loved seeing the colourful courgettes, giant cabbages and pretty cottage flowers. The gardens closer to the house include a 'white garden' (in the main picture) and what was originally designed to be a sunken garden, like the Great Plat at Hestercombe, but when work started it was discovered that the water table was too high - which is why there is now a small pond with a fountain.
After some research I was interested to find that much of Barrington Court had also been designed, or inspired, by Gertrude Jekyll, our own famous plants-woman. She worked with the lady of the house, Mrs Elsie Lyle, towards the end of her life and although not all the plans were implemented, you can see the direction they were taking.
The Lyle family only left Barrington Court in 1991, when it was taken over by the National Trust. But as Claire and I visited so early, the house was not yet open - so plenty to see on a future visit! Plus, plenty to inspire me for work at Hestercombe!