The festive period saw some of our biggest visitor numbers over the winter for some time. Thanks to all of you who came up, especially those of you who brought new friends to Hestercombe. We hope you enjoyed our Christmas activities, we certainly did!
The skating was a huge success, with many slots full to the limit and some children returning several times! I have to say it's not the easiest thing to do… After the press launch I managed to stay off the rink right until the last weekend when there was an empty slot (just as well as I had a pretty spectacular collision with a small penguin!).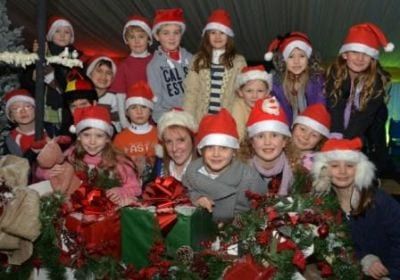 And thank you to all the schools and school children who supported us throughout the winter. Wellington School Chapel Choir, always a pleasure to have along, for the Carol Concert, Trull Primary children who featured in some of our press pieces and all of the schools who helped putting out posters and raffling off a family skating ticket. It would not have been the same without you!
But I've forgotten someone very special! Mr. Claus of course!
I'm sure many of you are aware that the Father Christmas sessions from December 15th sold out super-fast, and I do hope that those who missed out will book in early for next year. It is a very special experience, walking along through lit trees to the Octagon where an elf greets the children and welcomes them into the grotto. An open fire, Christmas tree and boxes stuffed full of colourfully wrapped presents. Bet you can't wait for next December now!
Anyway, it's a new year and we're already off deep in new projects. Hope to see you here soon!