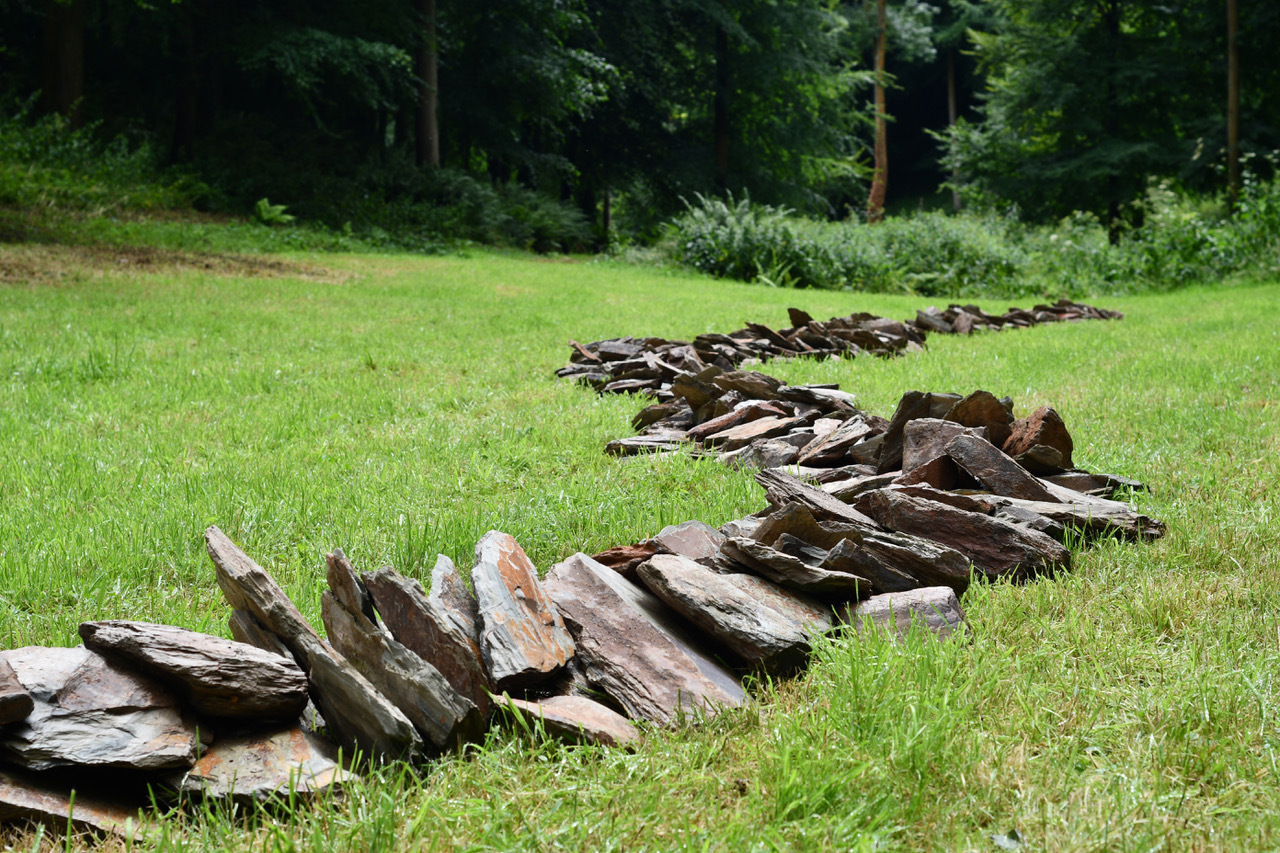 Jackdaw Line by Richard Long, at Hestercombe Gardens. Image: Jon England
Hestercombe Gallery is delighted to announce the launch of a new sculptural work by celebrated artist Richard Long.
Richard Long's newly installed artwork Jackdaw Line is set in Hestercombe's Georgian Landscape Garden. The piece has been commissioned as part of Bampfylde 300, a year of exhibitions and events celebrating the life and work of Hestercombe's former owner and landscape designer, Coplestone Warre Bampfylde.
Made using local Morte Slate, Jackdaw Line snakes through the landscape below the Box Pond at Hestercombe, and uses stone sourced from a quarry in the same valley.
Richard Long describes his work in general as a 'love and celebration of the natural world'; and of this new sculpture he says 'I'm an opportunist – I was invited to make a work, not far from my home, in these beautiful gardens with a fantastic supply of stones, and the help of gardeners who turned their skilled hands to manning wheelbarrows.'
The meandering sculpture is a reminder for the artist of River of Stones, a work made at the eighteenth century Madhavendra Palace in Jaipur in 2018.
Originally programmed for earlier this year the commission had to be rescheduled due to the Covid-19 pandemic. Since the start of the pandemic, Long has continued to make work from his home in Bristol, including Spring Line (2020) and Daydreaming Line (2020) both made by the act of walking near his home. This new stone work is Long's first since the easing of the lockdown.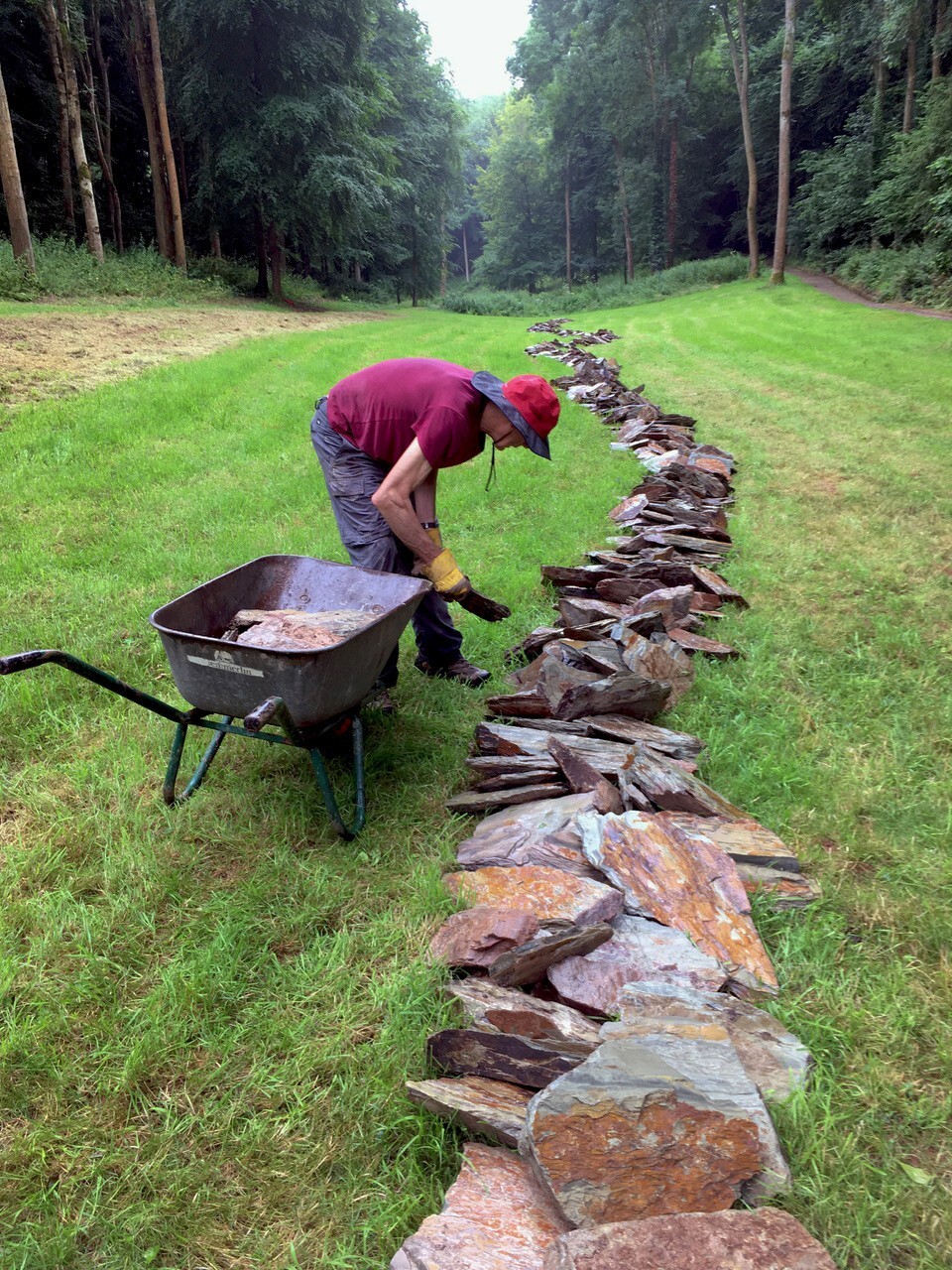 Richard Long installs his work Jackdaw Line at Hestercombe Gardens. Image: Tim Martin
About Richard Long
Richard Long has been in the vanguard of conceptual art in Britain since he created A Line Made by Walking over half a century ago in 1967, which established a precedent that art could be a journey, and changed how society views sculpture. Since then his fundamental practice of walking has led him to make forms, representations of time and space, utilising materials, such as stone, found in the landscape; these are often documented through his own photography, or by gallery text, stone and mud works. The artist has had a long relationship with Somerset since his childhood and has made numerous works in the county. In 2019 he made Those Blue Remembered Hills of Somerset, a text work based on a five day walk across Exmoor, the Polden, Brendon, Mendip, Blackdown and Quantock Hills.
Richard Long was born in Bristol, where he continues to live, and after studying at St Martin's School of Art, London, went on to exhibit work in galleries across the globe. He has had over 260 solo shows and walked and made work on all seven continents. He represented Britain at the 37th Venice Biennale (1976) and won the Turner Prize in 1989, after being nominated four times. He received the Chevalier de l'Ordre des Arts et des Lettres from the French Ministry of Culture (1990), has been elected to the Royal Academy of Arts, London (2001), and was awarded Japan's Praemium Imperiale in the field of sculpture (2009). In 2013 Long was made a CBE and was subsequently knighted in the 2018 Honours List.
Richard Long's Jackdaw Line can be seen at Hestercombe from Wednesday to Sunday each week, 10am – 4pm. At the time of publication, all visits must be pre-booked online by 5pm on the day before you wish to travel, via hestercombe.com
For press and media enquiries, please contact us.