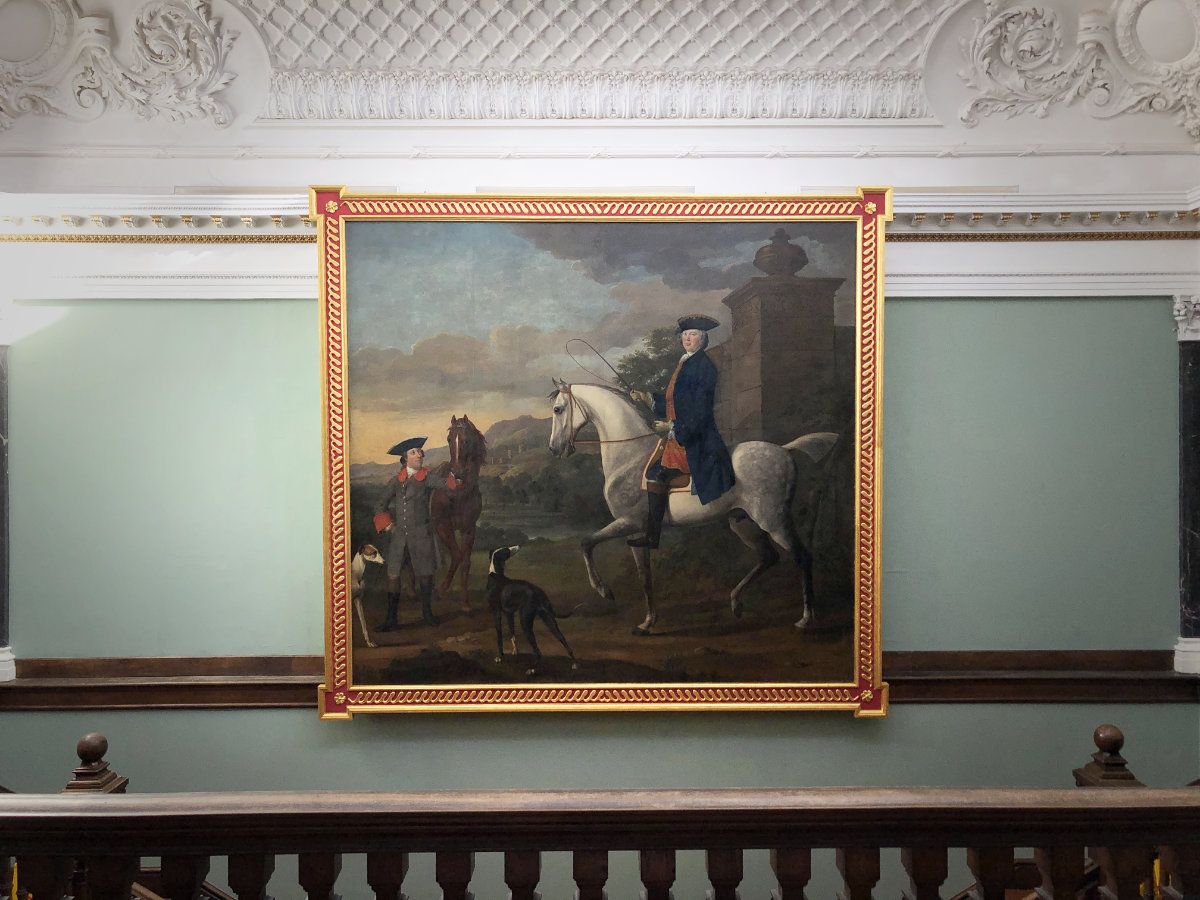 A magnificent historic painting has returned to Hestercombe for the first time in nearly 150 years.
Courtesy of a long term loan from a generous private benefactor, the painting – measuring an impressive 12 by 13 feet (plus the frame) – has been transported from its South Devon home back to Hestercombe House, where it was last seen in 1872 and sold in an estate sale following the death of the last Warre inhabitant. Formerly an imposing presence in the Great Hall (a space lost in the Portman's remodelling of Hestercombe House in the 1870s), the splendid equestrian self-portrait painted by Coplestone Warre Bampfylde, together with Somerset artist Richard Phelps, in 1747 now takes pride of place above the grand Victorian staircase.
Only 27 at the time of its creation, the painting shows Coplestone Warre Bampfylde (1720-91) alongside his friend and peer Phelps, perhaps a sign of the ambition of young 'Cop', who was to inherit Hestercombe upon the death of his father, the Exeter MP John Bampfylde, in 1750.
The journey of the painting was not without its challenges. An exceptionally large painting for the period, its size presented considerable difficulties during the removal, transportation and subsequent hanging at Hestercombe (overseen by Hestercombe Gallery Director Tim Martin) – at several points during the process it looked doubtful that it would fit through various windows, passageways and staircases. At both ends, scaffolding had to be erected to enable its removal and rehanging, and it was transported on a bespoke wooden slatted roll. See the story in pictures, below.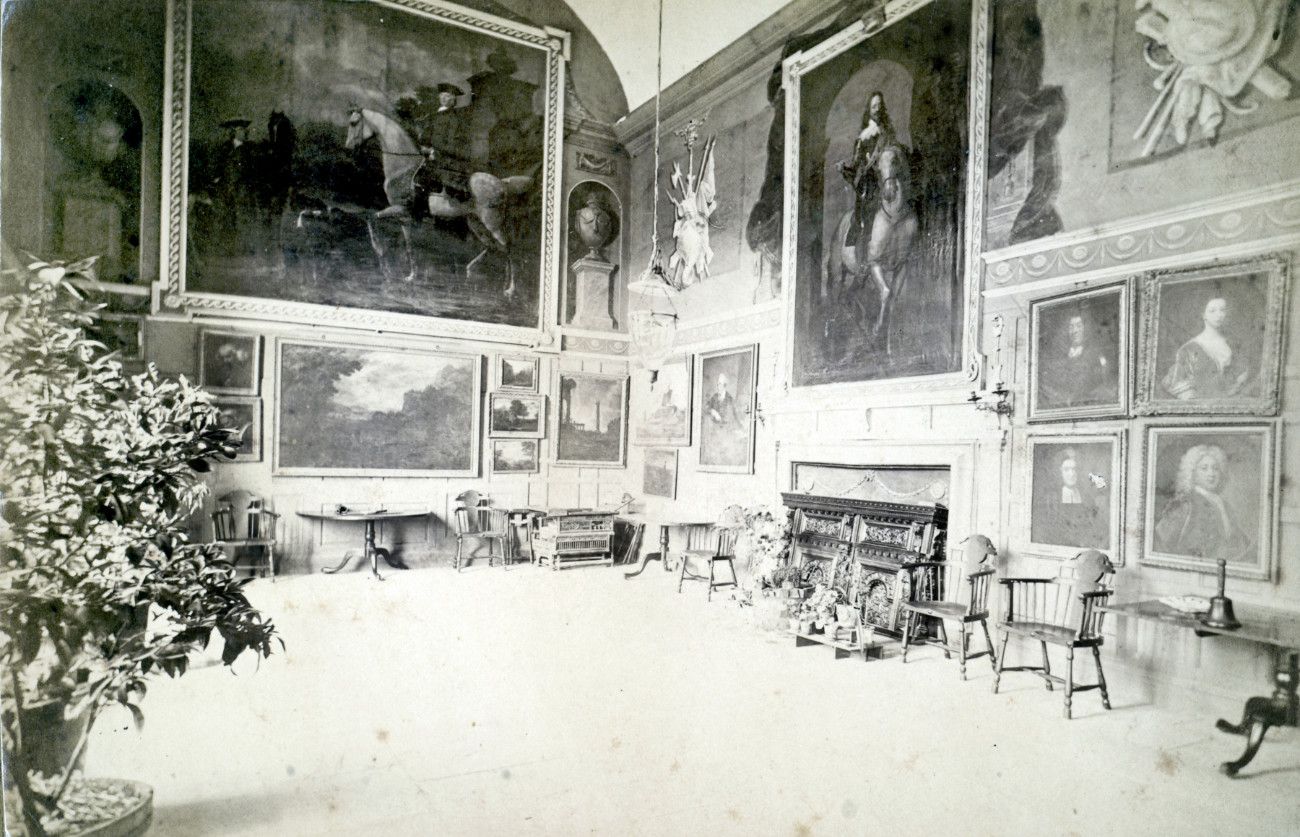 The magnificent Bampfylde/Phelps painting hanging in Hestercombe's Great Hall in 1872
The self-portrait is special in another way. To add an extra touch of elegance to its display at Hestercombe, a gilt frame was commissioned – a detailed replica of the original frame which used to house the painting when it was last seen at Hestercombe in 1872. Now considered practically a lost traditional skill, this was hand-carved from Tulip tree wood by local professional wood carver, Noel Thorp, who is still creating beautiful frames well into his 87th year. Having been hand-carved, the frame was then gilded by John and Anne Essex, who then oversaw the re-hanging of the painting above the grand staircase in Hestercombe House. John is a Fellow of the British Association of Paintings Conservator-Restorers, and it was his expertise, alongside Anne, that enabled the painting to be successfully stretched, tacked into place, and the frame constructed around it before being hoisted into place and secured.
The return of the painting to Hestercombe was very much the brainchild of the CEO of Hestercombe Gardens Trust, Philip White MBE. Philip 'rediscovered' Bampfylde's lost Landscape Garden whilst working at Hestercombe in the 1990s, and subsequently made it his goal to fully restore the 18th century landscape, which is now, after 25 years, very nearly complete. Unlike his contemporaries Lancelot 'Capability' Brown, or his successor Humphry Repton, Bampfylde is not a household name in Georgian garden design – his wide-reaching talents extended into architecture (he designed the Market House in Taunton), topography, interior design, and engineering amongst many others. His 'known' artworks number well over 200, and for the celebration of his tercentenary Hestercombe Gardens Trust has acquired over 80 of them from around the world. It is thought that he was the first artist in the country to paint real landscapes as we know them (rather than the classical Italian or Greek landscapes of the day).
Mr White said: "We can only ever look at Bampfylde's landscape through 21st century eyes, but we can try and evoke a feeling. What drives me most is wanting to complete the restoration of the 18th century garden. I feel if I don't do it, it may never be finished. It's the one thing I can do that others can't."
The painting is displayed as part of the Bampfylde 300 celebrations in 2020, and visitors to Hestercombe are able to see it as part of their entry to Hestercombe House and Gardens throughout the year.

2020 has gained significance as we celebrate the 300th anniversary of the birth of Bampfylde, former owner of Hestercombe, and designer of the impressive Landscape Garden that greets you after walking through the Victorian Shrubbery.
Throughout the year we will be holding a wide variety of engaging, enjoyable events, including art and archive-led exhibitions, talks, art and craft workshops, food and drink events, trails for all the family and much more – all responding to themes inspired by Bampfylde.
Bampfylde Exhibitions in 2020
Alongside the grand unveiling of the painting on 29th February to launch Bampfylde 300, two exhibitions will also open (1st March). Set alongside original Bampfylde works, Most Admirably Improved by Art (1 March - 28 June) brings together four contemporary artists Charlotte Hodes, Rebecca Partridge, Kelly Richardson and Fiona Hingston, all of whom, like Bampfylde, began their careers drawing and painting. Now, through a range of media, they respond to the landscapes and the environment of today, inspired through the history of art. Bringing together a mixture of collage and ceramic installation, sculpture, film and painting this show builds links between Bampfylde's Georgian endeavours and the concerns of artists today.
To celebrate Bampfylde's life and his importance to the history of Hestercombe and the South West, we bring together the largest survey of his original artworks and objects ever seen in one place, through the archival exhibition A Gentleman of Taste. Private collectors and national institutions have kindly loaned us original works that will tell the story of Bampfylde's life through five different aspects: Bampfylde at home; as a garden designer and architect; Bampfylde by the sea; as an artist; and Bampfylde the Georgian socialite.