Ditch the plastic berries and fake pine cones this Christmas with some top tips from expert Somerset florist and grower Jan Waters from JW Blooms. Find out how to make a Christmas wreath using British foliage, most of which you can grow or forage for in your own garden.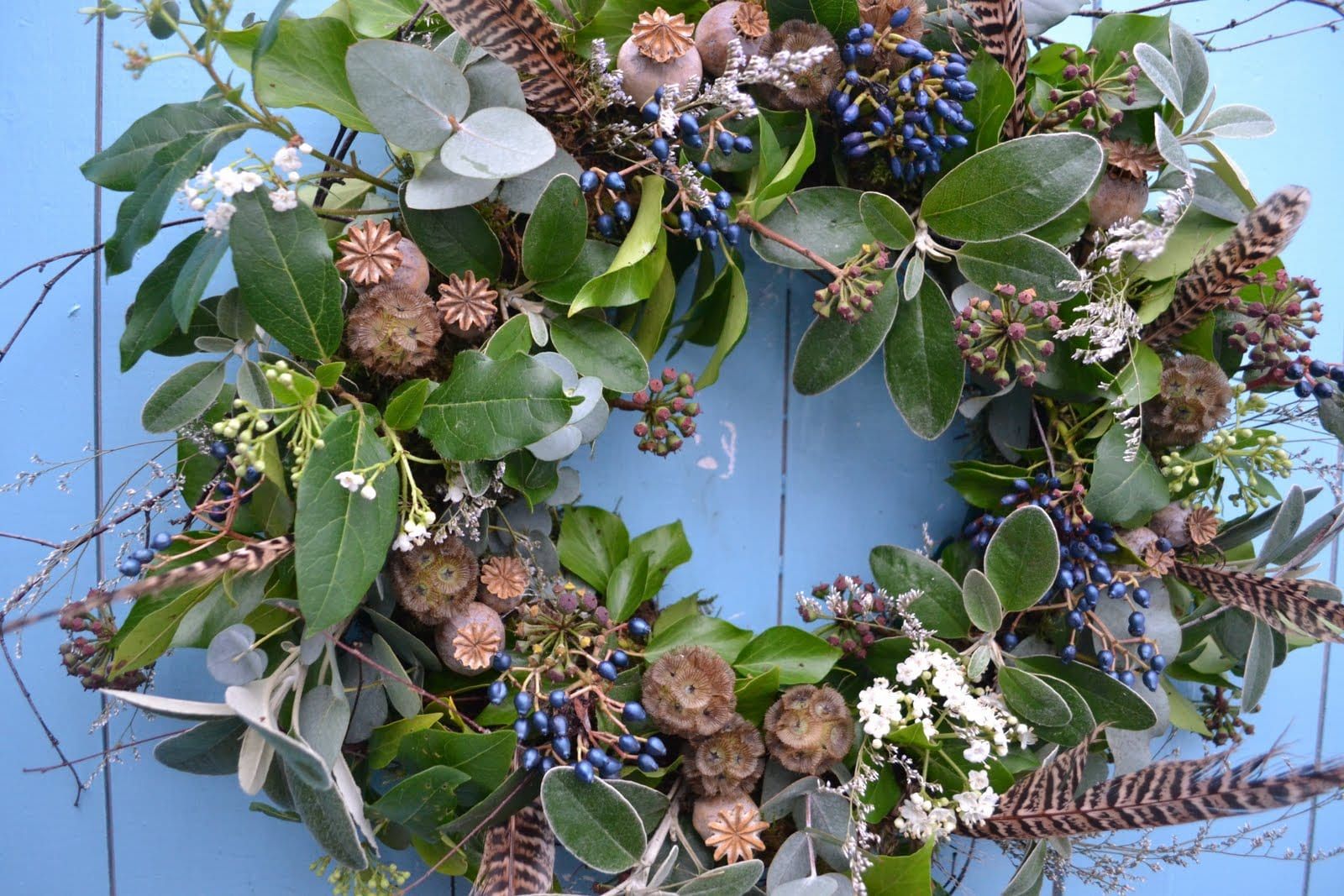 A handmade Christmas wreath made from British, seasonal foliage.
The wreath 'base'
Traditionally, Christmas wreaths are made from fir and holly because they're reliably evergreen at this time of year and they last well out of water once cut. But there are lots of other interesting foliages you can grow or forage to make your homemade wreath stand out from the crowd.
To make sure your foliage lasts, you will need to give it a source of water. Moss, wired onto a wreath ring will keep your foliage fresh for several weeks outside - a good excuse to let your lawn go a bit! Better still, start a colony for future years by leaving a log pile in a damp corner of the garden.
Wreath foliage
Many common garden shrubs provide great foliage for your wreath. Ivy lasts brilliantly and has clusters of beautiful berries at this time of year. Viburnums also make a lovely lush background, as do choisya, hebe and senecio. Scented foliage like rosemary and bay smell divine and, if you're lucky enough to have a eucalyptus tree, cut a few sprigs to add scent and a bluey-grey sheen. I'm a big fan of using variegated foliage like pittosporum and weigela in my wreaths to lighten things up, and I also often use yellow choisya or sprigs of euphorbia to give a touch of zing.
Decorating your Christmas wreath
Once you've wired your foliage to your hoop, you'll want to decorate it. Have a good look round the garden and in the hedgerows and you'll be surprised how much there is. Think texture, shape and movement, and don't just limit yourself to the usual fare: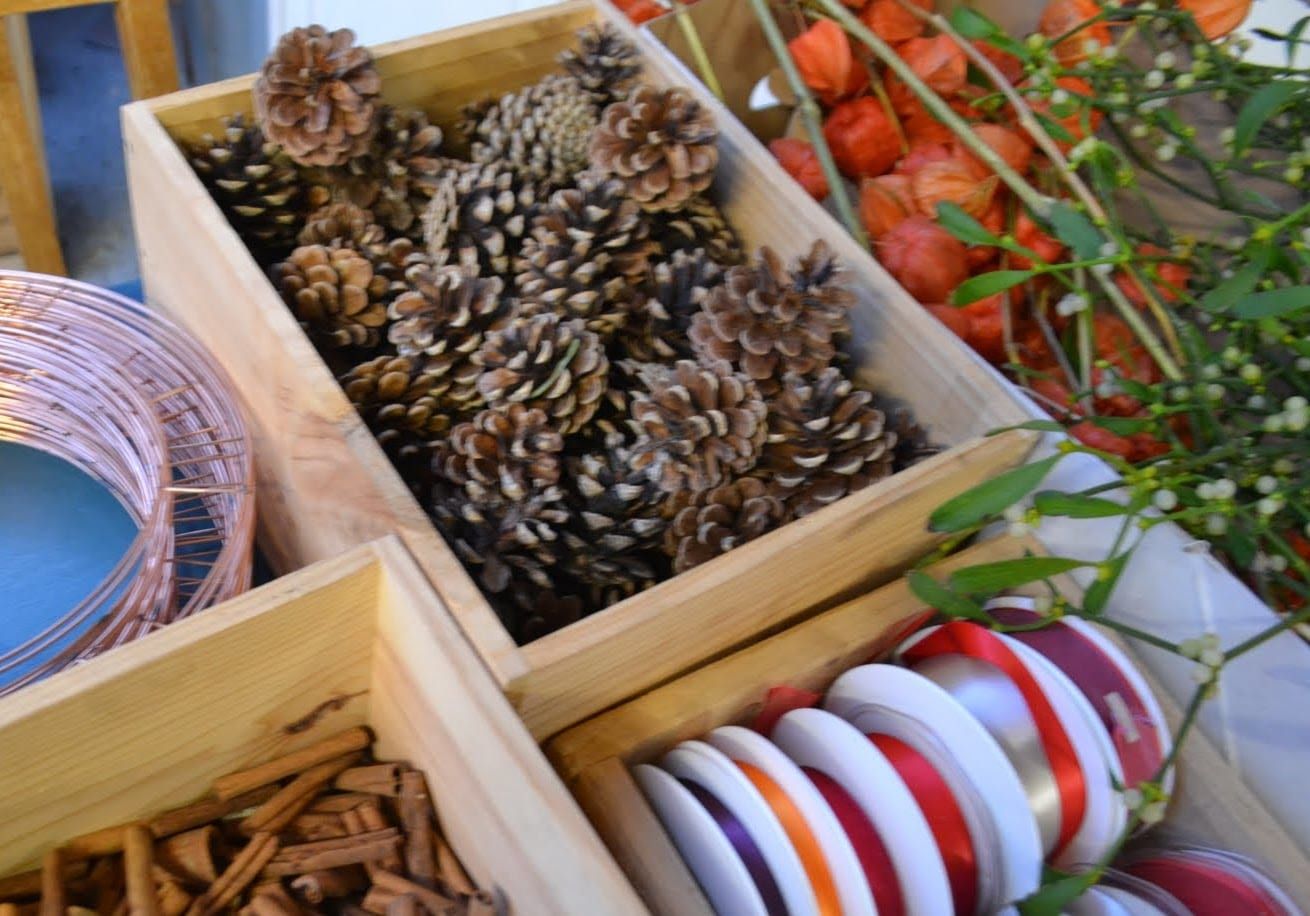 It is not just leaves which make for a beautiful wreath - pine cones, seed heads and even fruit work brilliantly.
- Pine cones give a really Christmassy feel, but don't ignore other, smaller cones. Clusters of alder cones and delicate twigs studded with larch cones look incredibly pretty and can often just be picked up off the ground - especially after a storm.
- Don't forget to add some berries. Try holly, pyracanthus or beautiful pink rowan berries. If you're very lucky, you'll find some deep blue viburnum tinus berries.
- Add some of the seed heads from your summer borders, such as poppies or nigella hispanica (if you have a porch where your wreath will be sheltered from the rain). Honesty seedheads add a lovely silvery shimmer and Chinese lanterns provide a pop of bright colour. Old man's beard has beautiful spidery seed heads which give a lovely hedgerow feel, and dried hydrangea heads add a touch of class.
- You often see dried orange slices on Christmas wreaths but how about adding the fruits whole? Crab apples look great, and one of our most popular designs incorporates whole apples - beware, though, the birds may well have helped themselves to a bite or two before Christmas gets here!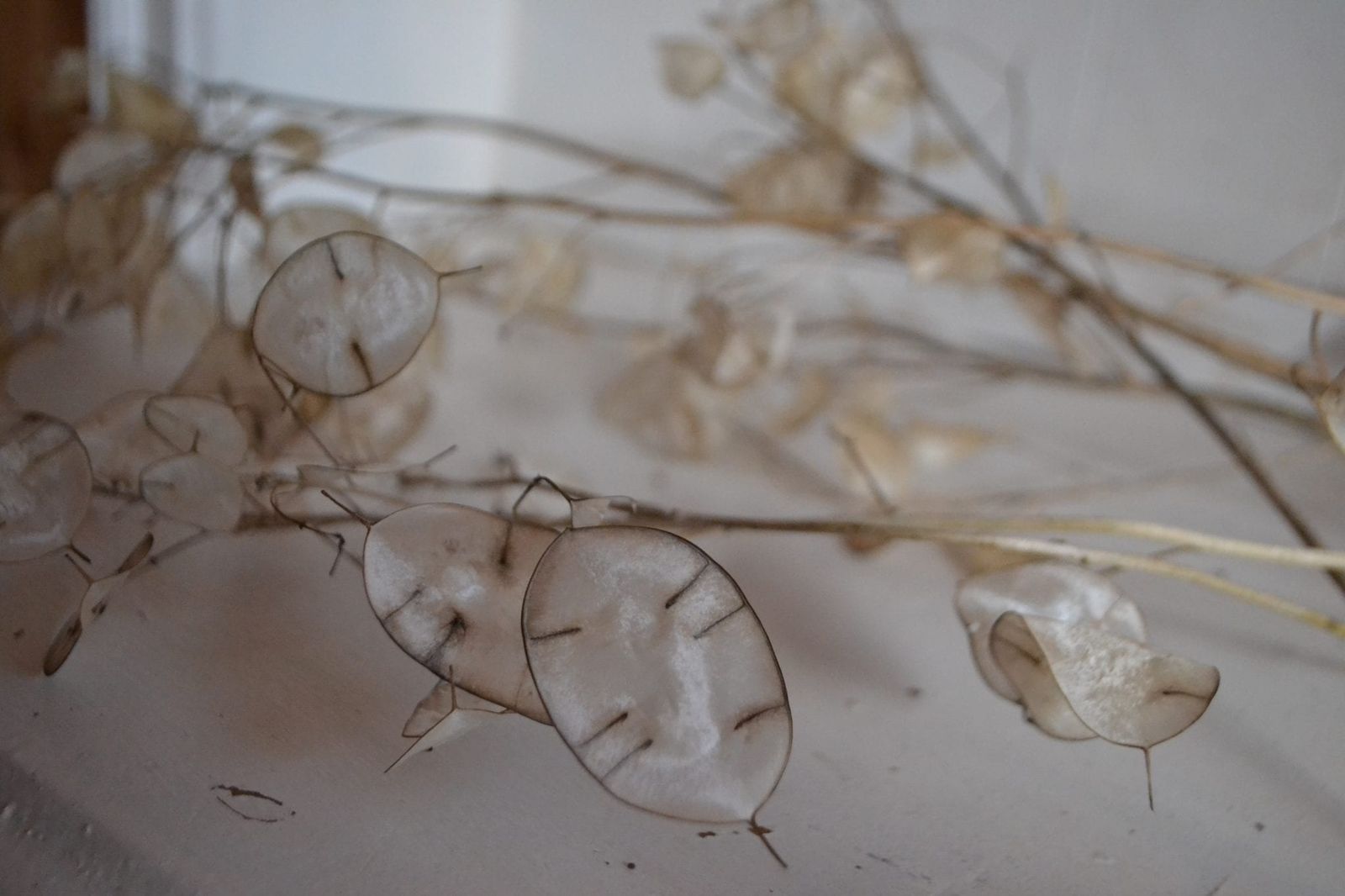 Honesty seed heads look beautiful in a homemade wreath
- Don't worry about your wreath being perfectly round. Things look more natural if they're not immaculate, so it's a good idea to have a few things sticking out - birch twigs, curly willow, feathers and grasses placed in at random angles give a really attractive wild and foraged look. After all, you want people to know you made this beautiful wreath!
Get making!
Need more help? We've got just the thing! Learn to make a Christmas wreath with Jan on one of our wreath making workshops on 2nd or 3rd December and bring some Christmas loveliness to your front door. All materials, foliage and tuition included (along with a warming cuppa and mince pie).