Find the perfect Somerset wedding venue and your plans can start to take shape. With a date and location set, you can start thinking about all the details and who you'll share them with.
But first, you need to find 'the one' – and there's more to your venue hunt than a pretty location alone. Use these 10 questions to help find the venue that really will be perfect for you.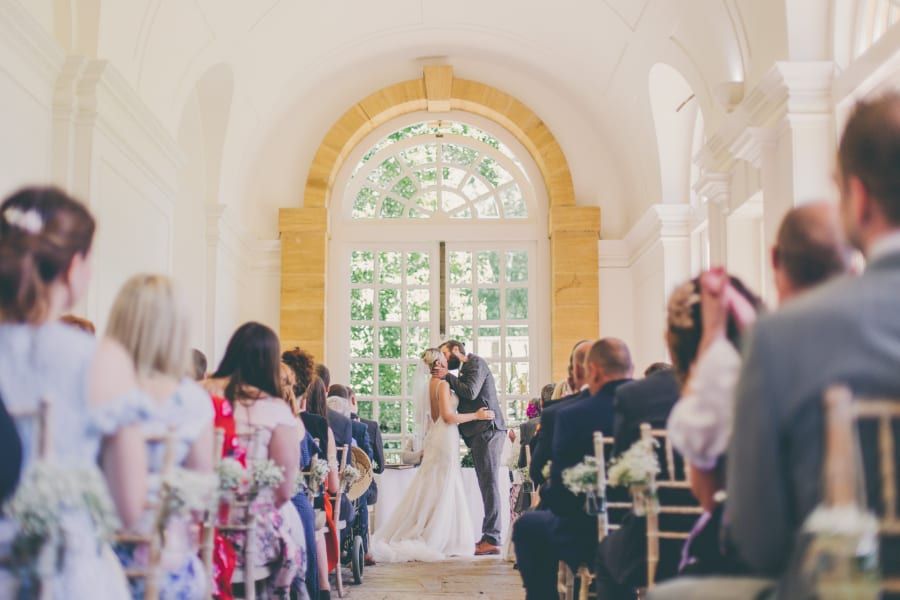 Image courtesy of Larissa Joice Photography
1 - What dates are available?
If your heart is set on a sentimental date or a Saturday in September, it's worth checking as soon as possible what availability your Somerset wedding venue has. You don't want to fall head over heels for a location and then find you can't actually marry there for another two years. Our wedding coordinators are always happy to help with any availability queries.
2 - Who will oversee things on the day?
From coordinating the bride's entrance to setting up the reception decorations, announcing the newly married couple and more, having a wedding coordinator on hand will lift all the last-minute stresses from your day.
They'll be there to liaise with suppliers arriving to set up. To light the candles before your wedding breakfast begins. To deal with any last-minute hiccups so you can get hitched without a hitch. At Hestercombe, you'll have the support of an expert team of professionals to ensure your wedding runs smoothly.
Always check whether your Somerset wedding venue provides the guidance of a wedding coordinator as standard. If they don't, factor in the cost of a wedding planner to help you in the run-up and on the day.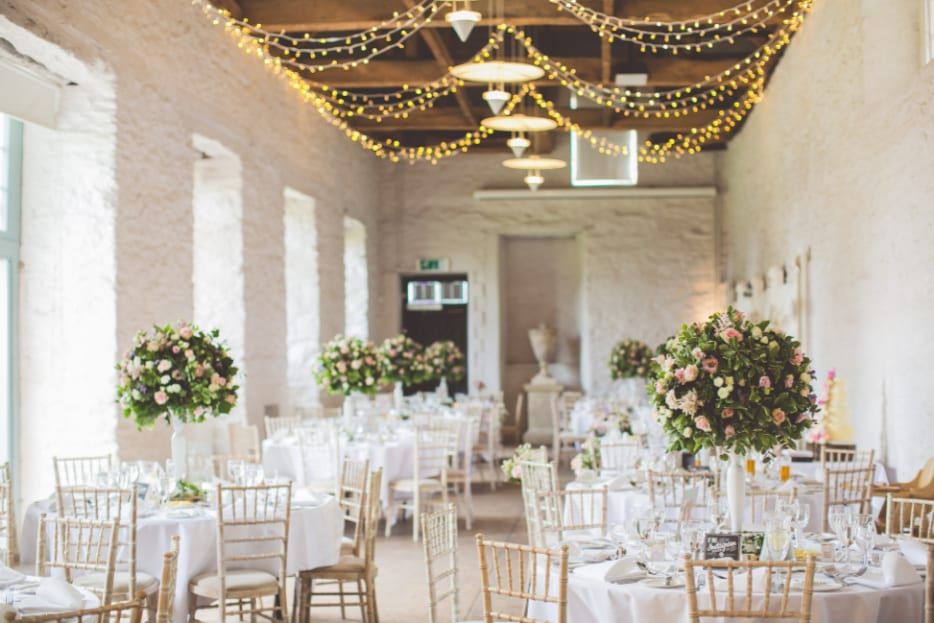 Image courtesy of Jamie Dodd Photography
3 - What is included in the hire fee?
Ask for a detailed breakdown of your wedding quote. This will help you to make a decision between venues by providing a clearer comparison. You'll know exactly what the venue hire, catering cost and any additional expenses will be for each Somerset wedding venue.
What is included as standard will also vary from venue to venue. At Hestercombe's Taunton wedding venue, a single venue hire fee gives you access to seven stunning spaces for your day. It also includes elements you might need to hire in elsewhere, like elegant Chiavari chairs.
4 - Can we check the small print?
Hidden in a Somerset wedding venue's terms and conditions are the nitty-gritty details that could make or break your big day. For example, some wedding venues do not permit naked flames, which rules out all dreams of a candlelit dinner. Others have even been known to call the last dance and lights out at 11pm!
It may seem like a long task that you don't really want to do, but reading your venue's terms or contract thoroughly really is essential. Once you know exactly what is and isn't possible, you can choose the venue that enables you to have your day, your way - whatever that might be.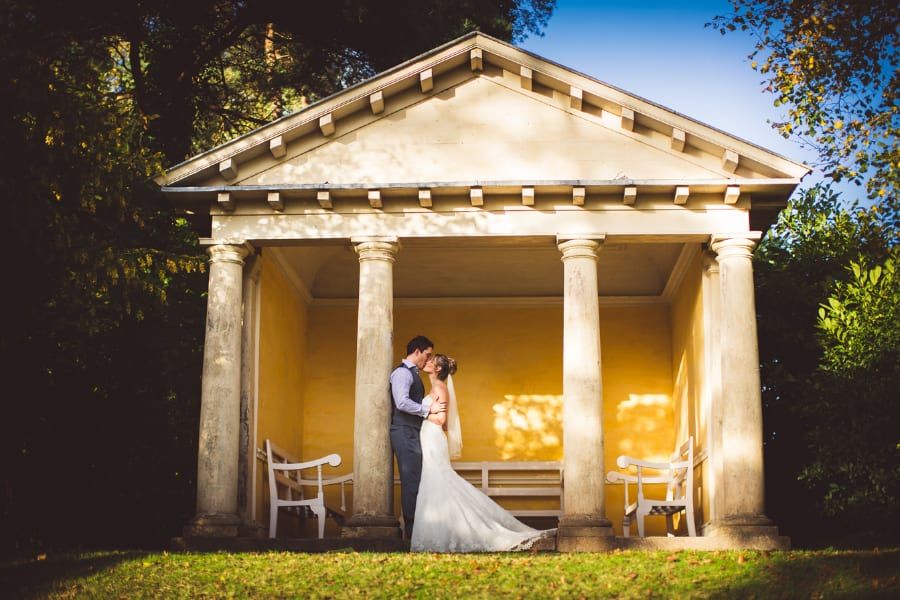 Image courtesy of Jamie Dodd Photography
5 - Can we get married outside?
Being a country house and garden wedding venue, Hestercombe is blessed with beautiful ceremony locations. You can celebrate an alfresco ceremony with fantastic views from the ornate garden Temple. Alternatively, why not combine the best of both by marrying in the Orangery? Throw the doors open onto the lawn and the scent of flowers will waft in for a weatherproof but totally romantic experience.
6 - How many weddings are hosted on one day?
Some wedding venues do not limit their bookings to one wedding per day, particularly if the venue encompasses several buildings or celebration spaces. If you want your day to be exclusively yours, confirm your venue's policy on this before making any decisions.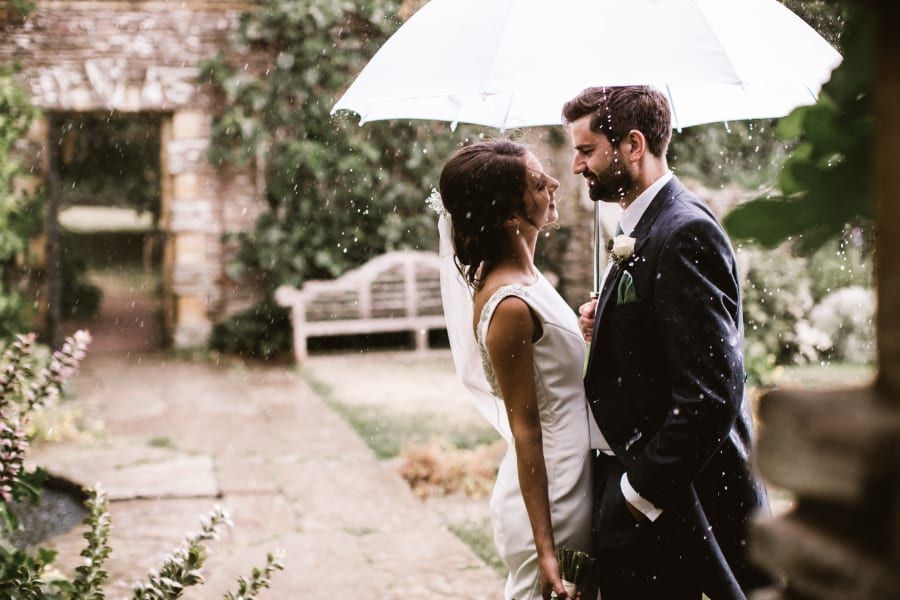 Image courtesy of Jamie Dodd Photography
7 - What happens if it rains?
Whether your ceremony takes place indoors or out, it's likely that some parts of your wedding will involve time outside. This could be for your wedding photos, or perhaps for your Champagne reception and canapés.
At Hestercombe, most couples choose to enjoy food and fizz on the Orangery Lawn or flower-filled Victorian Terrace after saying 'I do' in the Orangery. The surrounding Formal and Landscape Gardens also set the scene for most wedding photos. So while sunshine isn't guaranteed, stunning locations and backdrops are, come rain or shine.
Your Champagne reception won't be a wash-out either, because you'll be clinking flutes in the wood-panelled grandeur of the Dining Room in the historic house instead. The sweeping staircase makes an impressive location for photos under cover, too.
8 - Can we see your list of recommended suppliers?
When you start the search for your wedding suppliers, it can feel like you've got a mountain to climb. There's stationery to order, flowers to choose and a cake to design... And there are also about a hundred different vendors who could help you.
Ask your Somerset wedding venue for a list of their approved suppliers. Not only is their inclusion on this list a mark of quality, it also means that these suppliers likely know your wedding venue inside out. Consequently, they'll be able to work with you with your venue in mind, ensuring a seamless process throughout. Check out Hestercombe's recommended wedding suppliers.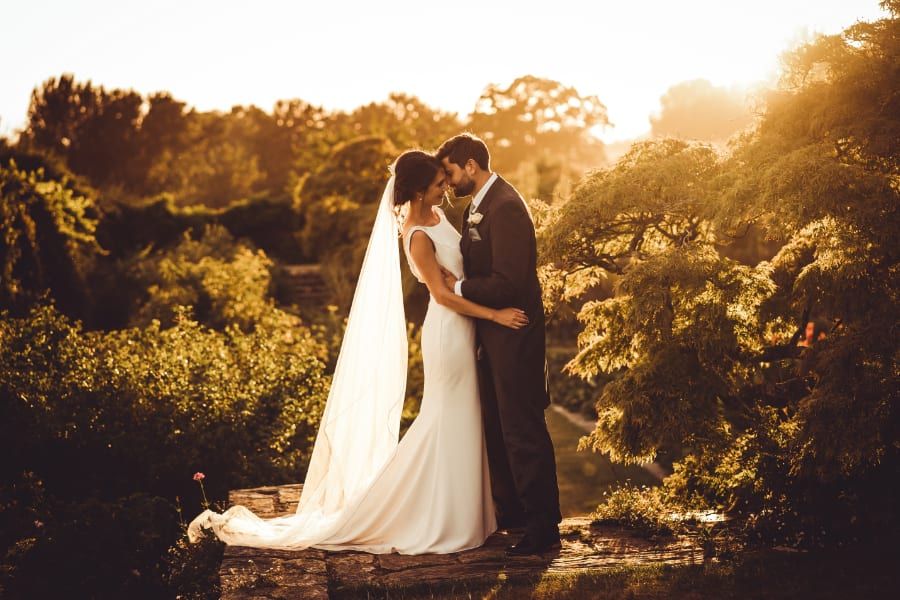 Image courtesy of Jamie Dodd Photography
9 - Where are the best places for wedding photos?
It's always a good idea to give your wedding photographer an idea of the photos you want. These could include couple's portraits, a confetti shot and your first dance. But it's even better if you can brief your photographer on where you'd like some of those photos to be set.
At Hestercombe, there are 50 acres of gardens, woodland and wildflower meadows to explore. You'll also fall head over heels for the glassy pools, romantic lakes and a breath-taking waterfall. It's a photographer's playground and a stunning backdrop for your big day. You'll have the chance to explore the gardens when you visit for your show-around. Bring a notebook and make a list of your favourite photo spots as you go.
10 - When can we come and visit your Somerset wedding venue?
Book a wedding show-around or attend a wedding open day to experience the venue in all its enchanting glory and picture exactly what it could be like on your big day.
Seeing the venue set up and dressed for a wedding will give you a better idea of the space available and provide inspiration. Contact Hestercombe's wedding coordinator Julie for your own show-around or for details of our next wedding open day.