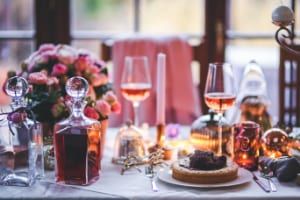 Does your Christmas lunch involve sweat, stress and an overdone turkey? It needn't be so. Hestercombe's Head Chef Matt Taylor tells us how to enjoy a stress-free kitchen this Christmas.
1. Keep it simple
Decide what you are going to cook for your Christmas lunch and prepare every part of it in advance. Present each part of the meal in big serving dishes and let people serve themselves. This means you'll spend more time chatting and eating and you won't have to remember who didn't want carrots.
2. Have a plan
It's all in the timing when it comes to cooking a brilliant Christmas lunch. Make a plan of what needs to be cooked when in advance. This breaks down the prep into manageable steps and ensures you won't forget any of the trimmings.
3. Delegate
Don't be a control freak when preparing your Christmas lunch. Give out specific jobs and choose your helpers carefully so that they'll get the job done smoothly. Let somebody else organise dessert and ask someone to set the table. Table wreaths and candles add a festive touch, but make sure you leave enough room to fit all the food on.
4. Modernise
Ask your butcher for a boneless turkey breast butterfly. It will cook in a fraction of the time and cause you a lot less stress than spending the morning basting the turkey.
5. Use technology
Put those kitchen gadgets you receive every Christmas to good use. A timer will keep you on track and an electric thermometer will ensure your turkey is cooked through without relying on guesswork. A slow cooker enables you to slice your turkey in advance and keep it warm.
Visit Hestercombe in Somerset for Christmas suppers with a live pianist or a delicious festive lunch and afternoon tea menu, all enjoyed with magnificent views of our historic gardens.